Valve says Steam Deck is 'on track' for February launch
Platform holder doesn't expect any further delays for the handheld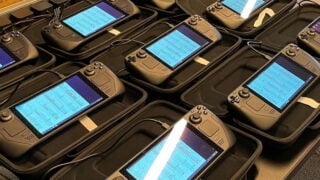 Valve has said that Steam Deck is "on track" to launch in February.
"Global pandemic, supply issues, and shipping issues notwithstanding, it looks like we'll be able to start getting these out the door by the end of February," it said in a new update.
Pre-order customers can view their estimated reservation availability window here.
Announced in July, Steam Deck is described as "a powerful all-in-one portable PC" capable of running the latest AAA games.
Prices start at $399 / £349 (64GB eMMC), with increased storage options available for $529 / £459 (256GB NVMe SSD) and $649 / £569 (512GB NVMe SSD).
Steam Deck was originally scheduled to launch in December, but Valve delayed its release by two months due to material shortages.
In its latest update, Valve also said players will soon be able to see Deck Verified status for a growing set of Steam games.
Deck Verified is a new rating system that will let Steam Deck owners easily tell which games are best suited for play on the system based on four major categories: input, seamlessness, display, and system support.
While Valve has said it's not interested in having any Steam Deck exclusives—"it's a PC and it should just play games like a PC"—it's reportedly focused internally on the development of handheld friendly games.
"[Development of] Half-Life 3, Half-Life 2 Episode 3, any kind of traditional mouse and keyboard FPS at Valve is not taking place, [and] if it is, it's a very small group of people and those individuals will not be seen as value generating by the higher-ups," Tylver McVicker of Valve News Network claimed recently.