Valve says Steam Deck can now be bought without a reservation
The Docking Station is also available now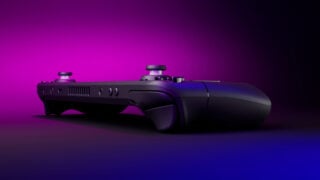 Valve has announced that the Steam Deck no longer has a waiting list.
Users can now buy one directly from the official Steam Deck website without having to place a reservation and wait until their place in the queue is reached.
"Starting today, Steam Deck is available without a reservation," the company tweeted. "Order one now, and we'll ship it to you now."
The company also announced that the Steam Deck Docking Station is also available starting today.
Steam Deck launch trailer
The Docking Station costs £79.99 / $89.99 and can be used to display the Steam Deck on a TV or monitor, or simply acts as a charging stand.
Valve stresses in an FAQ that the Docking Station isn't the only way to display Steam Deck games on a screen, and that a number of other third-party USB-C docks are compatible too.
It added that while Steam Decks are in stock now, it could temporarily sell out again in the future.
"We're doing our best to keep Steam Decks in stock, but there's always a chance demand will be outside our expectations," it explained. "If that happens, some models in some regions might temporarily revert back to reservations, while we catch up."
In an interview with Weekly Famitsu magazine last month, Valve designer Greg Coomer said it was highly likely that there will be a next generation of Steam Deck hardware in the future.
"Unless something major changes, there will be a next generation of Steam Deck products in the future," Coomer said.
"The theme, size and shape will change, and it might even become a streaming machine. Development of the Steam Deck will continue."