Valve doesn't expect to launch Steam Deck 2 'in the next couple of years'
"I think it has been pretty good on the horsepower front"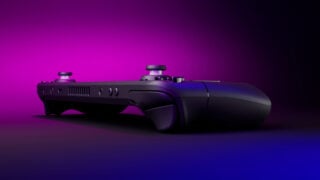 Valve doesn't expect to release a true Steam Deck successor "in the next couple of years".
That's according to Valve coder Pierre-Lou Griffais, who's currently working on the handheld, which launched in February 2022.
"Right now we're kind of looking at this performance target that we have as a stable target for a couple years," he told CNBC.
"We think that it's a pretty sweet spot in terms of being able to play all the experiences from this new generation and so far, the new releases are coming out with great experiences on Steam Deck.
"Obviously, we're working with developers on future releases and we're monitoring the feedback there but so far, I think it has been pretty good on the horsepower front."
He also told The Verge: "It's important to us that the Deck offers a fixed performance target for developers, and that the message to customers is simple, where every Deck can play the same games. As such, changing the performance level is not something we are taking lightly, and we only want to do so when there is a significant enough increase to be had.
"We also don't want more performance to come at a significant cost to power efficiency and battery life," Griffais added. "I don't anticipate such a leap to be possible in the next couple of years, but we're still closely monitoring innovations in architectures and fabrication processes to see where things are going there."
His comments echo those of Valve designer Lawrence Yang, who told Rock Paper Shotgun in February that "a true next-gen Deck with a significant bump in horsepower wouldn't be for a few years."
Valve recently started selling refurbished Steam Decks with discounts of up to $130 off the retail price.
And this week it announced the dates for several future Steam sales.