Valve Index unveiled as 'high-end' VR headset
Device to be supported with Portal tech demo; second VR title in development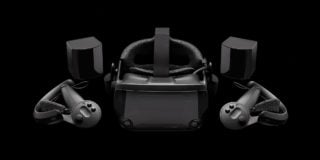 Valve has unveiled its "high-fidelity, high-end" VR headset, the Valve Index.
The headset is planned to begin shipping in limited numbers by July 1 in the US and EU, with pre-orders opening on May 1.
The full Valve Index package, which includes a base station, two controllers and the headset itself, will cost $999 (£919). Items are also available to purchase individually, with the headset retailing for $499 (£459), the base station for $149 (£139) and a pair of Index controllers for $279 (£259).
At a reveal event attended by GamesIndustry.biz, Valve representatives said the Index's high cost is due to the firm's intention to deliver a "high-fidelity, high-end headset for experienced VR users."
The firm's said it wants to "remove hardware barriers for developers working in VR" and thus increase the library of content available, rather than focusing on a low-barrier piece of equipment.
Valve index features a 120 Hz / 144 Hz refresh rate – higher than its rivals – and dual 1440 x 1600 LCD panels, 0.330ms of persistence, and a 50% visual fill factor.
The Index also features adjustable inner lenses that can be moved closer or farther away, and spaced closer or farther apart, to improve field of view.
The front of the device includes an expansion slot which Valve says will be compatible with various accessories, as well as a pair of cameras used for a number of experimental visual features. Valve will make the camera feature software open source for developers, it said.
The Index controllers have internal sensors that track the player's hand position, motion, and force.
Finally, the index features a pair of speakers that sit outside the user's ears, as opposed to headphones.
Valve will support the Index at launch with Portal spin-off Aperture Hand Labs, a demo of the headset's finger and hand tracking technology. Another unannounced VR title – compatible with all PC VR headsets – is also in development.
Each Index hardware item is compatible with the HTC Vive suite of devices, and Valve Index is compatible with the entirety of the SteamVR library.
Users will need a computer with at least a dual-core CPU, 8GB of RAM and an NVIDIA GeForce GTX 970 or AMD RX480 to use Index.