Valve Index 'set for June 15 release'
VR headset appears on Steam product page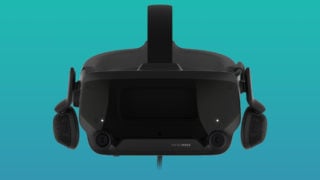 Valve Index, the upcoming VR headset from the Steam firm, looks set for release on June 15, 2019.
That's according to a Valve Index product page that appeared on the Steam store on Monday. As well as the release date, the listing reveals requirements for special Valve Index controllers and a Base Station.
It also lists the device's supported inputs, including USB 3.0 and DisplayPort 1.2, as well as recommended system requirements (Nvidia GTX 1070 or better).
Valve Index was first revealed in March via a surprise teaser site, which pointed to a full reveal in May.
The device appears to be Valve's first headset not created with long-time partner HTC, with which it launched the Vive in 2016, which was then succeeded by the higher end Vive Pro in 2018.
There are few indications on what the Valve Index might introduce to the VR space, however a 2018 Upload VR report claimed the headset would feature a field of view of 135° with "Vive Pro resolution."
It may also come bundled with a Half-Life based VR game that could be a prequel rather than the much-anticipated Half-Life 3, the report said.
Valve founder Gabe Newell previously told Eurogamer that the company was working on three "full" VR games.
"Right now we're building three VR games," he said. "When I say we're building three games, we're building three fullgames, not experiments."
He continued: "One of the questions you might be asking is 'Why in the world would you be making hardware?' What we can do now is we can be designing hardware at the same time that we're designing software.
"This is something that Miyamoto has always had. He's had the ability to think about what the input device is and design a system while he designs games. Our sense is that this will actually allow us to build much better entertainment experiences for people."
Related Products
Some external links on this page are affiliate links, if you click on our affiliate links and make a purchase we might receive a commission.