Valve has revealed its Switch-style handheld gaming PC, Steam Deck
Handheld gaming PC is capable of playing "the latest AAA games"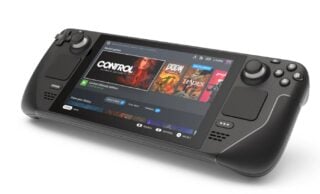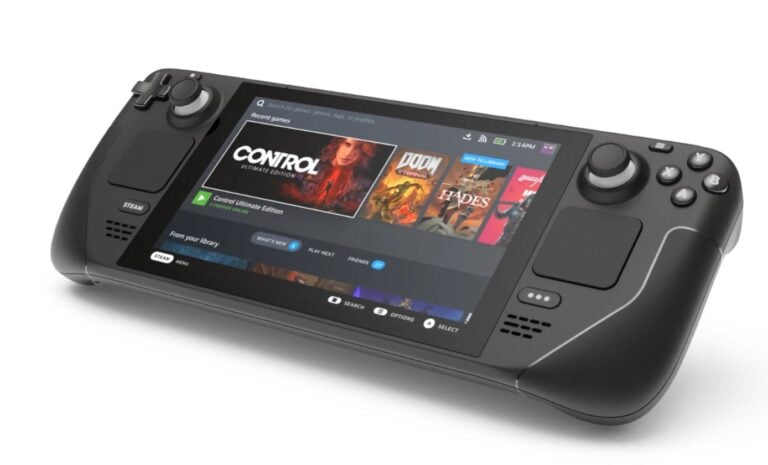 Valve has announced Steam Deck, its Switch-style handheld gaming PC.
The device, which was first reported on earlier this year, is described as "a powerful all-in-one portable PC" capable of running the latest AAA games.
Like a Nintendo Switch, it can even be plugged into a television via cables or an official dock, which will be sold separately.
Steam Deck is also an open PC, Valve said, with the ability to install any software or connect with any hardware.
The handheld will feature a "powerful, custom APU" developed with AMD, a 7-inch touch screen, full-sized controls with gyro and trackpads, Wi-Fi, Bluetooth, microSD expansion slot and a USB-C port.
It will begin shipping in December with prices starting at $399 (64GB eMMC). Increased storage options will also be available for $529 (256GB NVMe SSD) and $649 (512GB NVMe SSD).
Reservations start tomorrow, July 16, and require a $5 / £4 down payment and previous purchase history on Steam, so that Valve can avoid "potential unauthorized resellers".
The handheld gaming PC runs SteamOS 3.0 and Valve claims that developers' existing game builds will likely work right out of the box.
Features such as Steam Chat, Notifications, Cloud Saves, the Store, Community and Remote Play from a PC will all be included, Valve said.
Battery life is said to range from 2 to 8 hours depending on the activity.
"We think Steam Deck gives people another way to play the games they love on a high-performance device at a great price," said Valve founder Gabe Newell in a statement. "As a gamer, this is a product I've always wanted. And as a game developer, it's the mobile device I've always wanted for our partners."
Steam Deck Tech Specs
CPU: Zen 2 4c/8t, 2.4-3.5GHz (up to 448 GFlops FP32)
GPU: 8 RDNA 2 CUs, 1.0-1.6GHz (up to 1.6 TFlops FP32)
RAM 16 GB LPDDR5 RAM (5500 MT/s)
Storage
64 GB eMMC (PCIe Gen 2 x1)
256 GB NVMe SSD (PCIe Gen 3 x4)
512 GB high-speed NVMe SSD (PCIe Gen 3 x4)
Speaking with IGN, Newell said he felt Valve needed to be "very aggressive" in terms of pricing, which he viewed as "one of the critical factors in the mobile space."
"I want to pick this up and say, oh, it all works. It's all fast. It's all… and then price point was secondary and painful. But that was pretty clearly a critical aspect to it," Newell said. "But the first thing was the performance and the experience, [that] was the biggest and most fundamental constraint that was driving this."
Newell claimed that Steam Deck was ultimately being priced with long-term strategy in mind.
"Nobody has ever said, 'Oh, we have a giant success where clearly there's huge demand for this, but our margins are too thin.' Right? And a lot of people have overpriced things and killed the opportunity, and sort of convince people that it's an uninteresting category from the get-go.
"So we're definitely… our view is… we're doing this for the long haul. And there's a lot of opportunity. And so far, everything we're hearing from our partners, mainly because they're the ones that we've talked about it the most, is a lot of enthusiasm that this is something that they're really going to be happy to see the PC community pushing into this space."
Related Products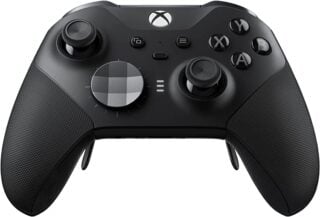 Xbox Elite Series 2 Wireless Controller
Other Products
Some external links on this page are affiliate links, if you click on our affiliate links and make a purchase we might receive a commission.