Valve 'discontinues' Steam Controller after $5 sell off
Steam firm will reportedly no longer make gamepads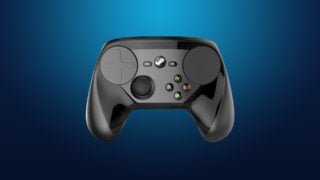 Valve has reportedly discontinued its Steam Controller peripheral, after selling off its remaining stock in a $5 fire sale.
According to The Verge, the Steam firm has cleared out its final stock of the peripheral and will no longer produce any more gamepads.
The 90% discount on its RRP meant that the final controllers were sold for less than the price of shipping.
Introduced in 2013 as part of its Steam Machines initiative, the Steam Controller includes two trackpads which feature haptic feedback to emulate the feel of a mouse ball.
The controller is significantly customisable, with players able to upload their own custom Steam Controller configurations to games on Steam.
The Steam Controller's end comes a year after Valve discontinued the Steam Link, a streaming box for playing PC games on a television wirelessly.
Valve has shifted its hardware focus to VR in recent years. In 2016 it launched Vive in partnership with HTC, then earlier this year the company announced its own VR headset, Valve Index.
Perhaps most significantly, earlier this month Valve announced its flagship VR title Half-Life: Alyx, which will come free with all Valve Index sales.