Vader Immortal is being released for PlayStation VR this summer
Game co-developed by Lucasfilm and Hellblade studio Ninja Theory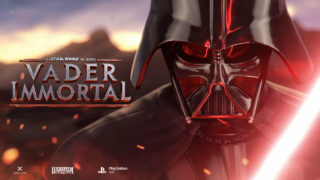 Vader Immortal: A Star Wars VR Series will be released for PlayStation VR this summer.
Set on the lava planet Mustafar between Revenge of the Sith and A New Hope, the three-part canonical VR series first released for Oculus Quest in 2019.
It was written by David S. Goyer and co-developed by Lucasfilm's ILMxLAB and Hellblade studio Ninja Theory.
All episodes and Lightsaber Dojos will be available to purchase together for the first time when Vader Immortal releases for PlayStation VR.
"There are so many parts that grab you in the experience, but my favorite is still early in the first episode," ILMxLAB executive creative producer Mark S. Miller told the PlayStation Blog.
"The moment when Darth Vader first approaches you is something that can't really be explained (but I'll try). It's intense when his gaze follows you and he speaks directly to you. I've seen some people stand up taller and get in his face, and some shrink a bit or even step back, but his presence is intimidating, and unforgettable."
Vader Immortal won Best AV/VR Game at the GDC 2020 Awards in March.
Sony said in January that PlayStation VR sales had topped five million units since launching in October 2016.