Upcoming Mario Party Superstars DLC may have been hinted in a survey
A previous datamine also supports the rumour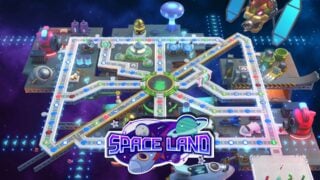 A new survey may have hinted at the existence of unannounced Mario Party Superstars DLC.
Spotted by Reddit user VideoPanda7113, the survey asks the following: "Next time you buy a downloadable content pack, which one are you most likely to buy?"
The survey then lists Hot Wheels Unleashed, Mario Kart 8 DLC, Animal Crossing New Horizon: Happy Home Paradise or none of the above.
All of the games listed, apart from Mario Party Superstars, have DLC, which hints at the idea that there may be DLC coming, or at one point DLC was planned for the party game collection.
While it's possible that this survey was made by a third party that was unaware of Mario Party Superstars' lack of DLC, it's still interesting that it's the only game included without it.
A datamine in October pointed to several extra boards that were included in the game, potentially hinting at the future DLC that was planned to be included.
Mario Party Superstars combined many boards from across the series, so there are still plenty to choose from for future content.
While nothing from this datamine has been fully decrypted, including which maps or minigames are represented by these entries, it's likely that they would have been more "fan favourites" which is what the boards and minigames of Mario Party Superstars consist of.
Other recent Mario spin-off titles such as Mario Golf have received post-release content, including new characters. The incredibly successful Mario Kart 8 Deluxe will add over 40 tracks in the next two years as part of its Mario Kart 8 Deluxe Booster Course Pass. The first wave will release March 18, 2022 and will cost $24.99/£24.99.