Untitled Goose Game and Control win big at GDC 2020 Awards
This year's ceremony was held via livestream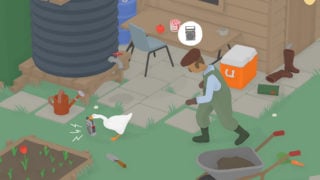 Australian indie hit Untitled Goose Game was awarded Game of the Year at the 2020 Game Developers Choice Awards.
Originally scheduled to take place during the now-postponed GDC, the Game Developers Choice Awards were reformatted as a livestream ceremony broadcast on Wednesday.
The other big winners included Remedy's Control, which won the awards for Best Technology, Best Audio and Best Visual Art. Role-playing game Disco Elysium won the awards for Best Narrative and Best Debut for developer ZA/UM.
This year's Ambassador Award, which honours those who help video games advance to a better place through advocacy and action, went to Kate Edwards, former head of the International Game Developers Association and current Global Game Jam executive director.
The Pioneer Award, which recognizes breakthrough tech and game design milestones, went to game creator Roberta Williams, for her influential work creating the King's Quest game series and for co-founding Sierra On-Line with her husband Ken Williams.
"We are so happy to continue to honor the creative work of the finest game designers in the world by hosting the Game Developers Choice Awards online this year," said Katie Stern, general manager of the Game Developers Conference.
"Games can help us connect, they can inspire us to create, and sometimes they help us to escape. There is perhaps no better time for us to appreciate what games mean to us than in trying times like these."
GDC's organiser has moved to salvage some event content following it's postponement due to the coronavirus outbreak. As well as the digital GDC Awards, the event has livestreamed a number of panels and more than 40 game demos have also been made available via Steam.
---
The Game Developers Choice Awards winners
Best Audio
Control(Remedy Entertainment/505 Games)
Best Debut
ZA/UM (Disco Elysium)
Best Design
Baba is You (Hempuli)
Best Mobile Game
What the Golf? (Triband/The Label Limited)
Innovation Award
Baba is You (Hempuli)
Best Narrative
Disco Elysium (ZA/UM)
Best Technology
Control (Remedy Entertainment/505 Games)
Best Visual Art
Control (Remedy Entertainment/505 Games)
Best VR/AR Game
Vader Immortal (ILMxLAB & Oculus Studios/Disney)
Audience Award
Sky: Children of the Light (thatgamecompany)
Game of the Year
Untitled Goose Game (House House/Panic)
Pioneer Award
Roberta Williams
Ambassador Award
Kate Edwards