Unhappy Pokémon Scarlet and Violet players claim mixed results requesting refunds
The games have been criticised for performance issues at launch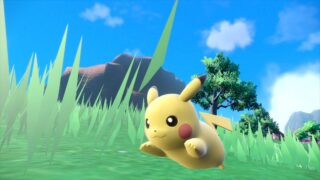 Unhappy Pokémon Scarlet and Violet players seeking refunds for the games have reported receiving mixed results.
The latest mainline titles in the Pokémon series were released last week and have broken sales records for publisher Nintendo, but they've also been heavily criticised for their buggy state at launch.
Their well-documented performance issues—and a lack of any public statements so far about planned title updates—have led to a number of players attempting to get their money back, with some success.
"I got a refund from the eshop last night of Violet after feeling the game is not in a state I feel acceptable for a AAA release," one Reddit user wrote.
"The rep actually told me that given the situation regarding the state of Pokemon S/V she would elevate my case to ensure the refund was approved. It was approved an hour later."
"Welcome to the refund team," another user replied. "Honestly, it sucks to have to even do this. But we are actually potentially making some decent backlash. Maybe we will get a decent patch and updates, in which case I'll buy the game used. Until then, never will buy a new Pokemon game unless its actually AAA tier."
"Nintendo refunded my digital copy of Pokémon Violet, it's just too broken", another player tweeted. "I'll pick it up again when it's fixed. If you want a refund give it a go you should be granted one."
"If you bought this on the Nintendo eShop just know you can call in and get a refund. The number is 1 (855) 559-5568," wrote another Reddit user. "They said it would be a one-time exception to their digital refund policy, however, and I did technically preorder it as I bought it a day before release.
"What's more is after they said the refund is possible they also let me know third party review sites exist and to check with them before purchasing in the future. Almost like saying the Nintendo and Pokemon brands are no longer the mark of quality they once were. Truly sad, but at least I get my money back."
Other users say they were denied a refund when they approached customer service in the hope of getting their money back.
"EU Support is unworkable, sadly," said one Reddit user. "I tried over hours, with different people. Nothing. I tried the NA support, and they were super cooperative but sad they cannot approve refunds for non-Americas accounts. :/"
"Pokemon Violet barely runs on my OLED Switch, there are bugs everywhere, it runs at 20FPS or lower and the classroom scene just hurts my eyes," one player tweeted. "I ask for a refund for this, because it's straight up unplayable. I guess, that's not something they do."
Their tweet included an image of what appears to be an email from Nintendo customer support directing them to a website detailing the company's cancellation policy for digital purchases.
"All sales (including pre-purchases) are final," the website reads. "Please be sure that you meet all of these download requirements for your game before you place your order."
Digital Foundry, which specialises in game technology and hardware reviews using bespoke capture and analysis tools, gave a scathing assessment of Pokémon Scarlet and Violet in its recent review.
"We weren't able to go hands-on with Pokémon Scarlet/Pokémon Violet until the game launched, but having compared it to Pokémon Arceus and a bunch of Switch open-world titles, it's clear that this game has severe problems and should not be sold in this state," it said.
VGC's Pokémon Scarlet and Violet review called the games the most feature-rich Pokémon titles in years, but also noted that they were held back by technical issues.
"The huge expansion and changes to the single-player campaign are great, the size of the world and the joy of exploration are the best in the series, and the new Pokemon and battle mechanics introduced all sing," we wrote. "However, it's just impossible to shake the thought of how much better the game would feel if it was on more powerful hardware, or simply ran acceptably on Switch."
Nintendo claimed on Wednesday that sales of the Nintendo Switch titles surpassed 10 million combined units in the first 72 hours following their worldwide release on November 18, 2022.
"This is the highest global sales level for any software on any Nintendo platform within the first three days," it said.
The games' blockbuster launch, coupled with their significant performance issues, have been likened by some players to the Cyberpunk 2077's troubled release in 2020.
CD Projekt Red's game was billed as one of the biggest titles of the last console generation, with the heavily anticipated game selling eight million copies via pre-orders alone.
But it released with a host of technical problems, resulting in refunds being offered and the game temporarily being pulled from the PlayStation Store.
Related Products
Other Products
Some external links on this page are affiliate links, if you click on our affiliate links and make a purchase we might receive a commission.