Uncharted director Amy Hennig to helm new games studio
Writer and designer partners with Hollywood production company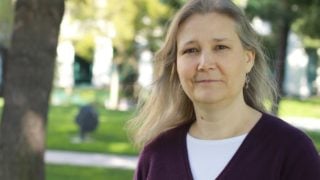 Amy Hennig, the former writer and director of Naughty Dog's Uncharted series, will helm a new games studio formed by Hollywood production company Skydance.
Skydance is responsible for co-producing movies such as Terminator: Dark Fate, Gemini Man and Mission Impossible: Rogue Nation, but it's now looking to enter the games space with its own development studio.
Venturebeat reports that Skydance has hired Hennig to lead the new San Francisco-based company, alongside former Electronic Arts executive Julian Beak, who has 30 years of experience working on franchises such as Battlefield, Need for Speed and Star Wars.
Hennig is the acclaimed director of games such as Legacy of Kain: Soul Reaver and Uncharted 1 – 3. She most recently worked on a canned Star Wars project at EA.
In an interview with Venturebeat, Hennig said she and Beak took "a little time" to decide their next move after leaving EA in 2018 and that she feels that the Skydance partnership is a good fit.
"After Visceral closed, we both looked at the industry. We said we were going to take a little time," Hennig said.
"Looking at the landscape, it felt like we were in an inflection point. And not just the game industry, but the center of the entertainment industry as a whole.
"And so we just were fortunate enough to have the opportunity to do a survey of the industry and talk to people and engage with people in the industry, as well as in the traditional entertainment industry. Just to see where people thought the wind was blowing. Who were we going to partner with?"
Hennig said the new company will target "gamers and non-gamers alike," on both traditional and emerging streaming platforms with new "story-focused experiences."