Ukrainian dev Frogwares is letting players write on shells to be fired at Russian forces
"We look forward to sending these special deliveries to our unwanted guests"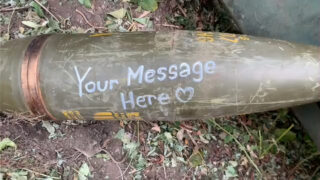 Ukrainian developer Frogwares is promoting the final days of its Kickstarter by giving players a chance to write a message on 152mm howitzer shells which it suggests will be used against invading Russian forces.
Frogwares' Kickstarter campaign for Sherlock Holmes: The Awakened has already met its goal with 48 hours left to go and all its stretch goals have been met.
However, the campaign states that all additional funds from buying a copy of The Awakened will be used to "strengthen our safety net and further secure the future of our studio and our team members."
In an attempt to gain further backing before the campaign ends, the studio has launched an unconventional competition in partnership with a group of Ukrainian soldiers.
By liking and retweeting the promotional tweet embedded below, Frogwares says three players will be able to win the opportunity "to get any custom message of their choosing written onto a 152 mm howitzer shell", which it says will then be sent "to our Russian guests".
The message can be anything winners want, subject to Frogwares' approval, and winners will get a photo of their message written on a shell, displayed by Ukrainian troops.
The Ukrainian soldiers featured in the Twitter video are said to be "a group of fans of the studio who are currently serving in the Ukrainian military" as part of the 24th Separate Assault Battalion.
"If you'd like your custom message written on an artillery shell, and help our friends at Frogwares at the same time, please get involved," a Ukrainian soldier says in the video. He adds: "We look forward to sending these, special delivery, to our unwanted guests."
Like many game developers in Ukraine and around the world, Frogwares has actively spoken out against Russia's invasion of the country.
"For those of us on the team not serving in the military or with various humanitarian aid organizations, the only way we can fight back is by keeping our team creating," the company states on its Kickstarter page.
"For normal citizens like us, our most potent weapon right now against the Russians is being able to keep Ukrainian society and our economy alive. A functioning country is one that can resist, fight back, and finally, rebuild."
The studio received an Epic MegaGrant from Epic Games in May, which it said would be crucial in relocating employees to safer areas and would help those who've moved to remote regions of Ukraine, or to other nations in the EU, maintain their financial stability.
Many companies, including platform holders Nintendo, Sony and Microsoft, have suspended sales of their products in Russia.
Others have made significant donations to the humanitarian appeal in Ukraine including Embracer Group, 11 bit studios, Bandai Namco, CD Projekt Red, Supercell, Ubisoft, Unity and The Pokémon Company.