UK teenager 'proves mother wrong' with £1m Fortnite prize
15-year-old World Cup runner-up previously had Xbox "thrown away"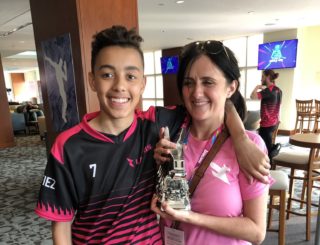 A 15-year-old British boy earned $1.25m (£1m) by finishing second in the debut Fortnite World Cup in New York on Saturday.
Jaden Ashman, aka 'Wolfiez', from Essex competed alongside Dutch player Dave Jong, 21, in the duos round of the tournament.
His mother, Lisa Dallman, told the BBC that she and her son previously "had a nightmare" arguing over the amount of time he spent playing the battle royale game.
She even admitted to having "thrown away" an Xbox in the past in an attempt to make Jaden focus on his schoolwork, but she said she now accepts his choice to compete in esports.
Jaden said he started playing Fornite when the game was released two years ago and practices around eight hours a day.
Although his mother initially thought he was wasting his time, the runner-up said: "Now I've proved to her that I can do stuff, I'm really happy."
Epic's Fortnite World Cup had a prize pool of $30m, which is claimed to be the biggest ever for an esports event.
More than 100 finalists took part, down from around 40 million who attempted to qualify.
The duos winners, Emil Bergquist Pedersen from Norway and his Austrian partner, David W, took home a total of $3m in prize money.