UK council criticised for spending on massive 'Mario Bros. plant pots'
Local authority says they were installed in a bid to "promote a feeling of wellbeing and safety"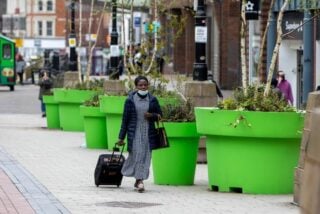 Image: Anita Maric / SWNS
Walsall Council has been criticised for spending UK taxpayers' money on 15 massive plant pots which some residents have likened to "something from Super Mario Brothers".
The offending plant pots were introduced using money from the UK government's Our Towns Fund, an £80 million scheme designed to boost regeneration and help local areas "level-up" in response to the impact of the coronavirus, according to communities secretary Robert Jenrick.
The Birmingham Mail reports that Walsall Council was granted £750,000 as part of scheme.
Critics say it has chosen to invest part of the money unwisely, labelling the plant pots unsightly and a waste of money at a time when the local authority is reportedly attempting to cut £29 million from its budget.
Angry residents compared the planters to Warp Pipes found in Super Mario games, which transport players to different areas of the Mushroom World.
"We've had so many shop closures in the last few years and the best thing the council can come up with is these garish monstrosities," local florist Andrea Loveridge told Birmingham Live.
"It beggars belief. It makes the place like more like something from Super Mario Brothers. They look like those warp pipes Mario jumps down."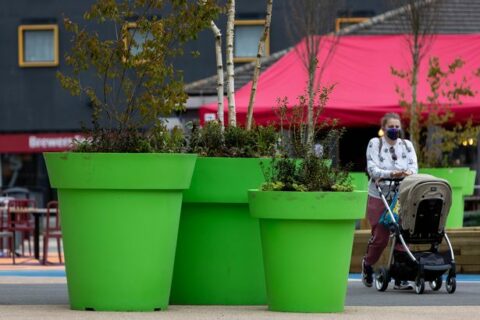 Supermarket worker Sue Morrisson said the council should instead be investing in cleaning up the town centre and addressing neglected buildings.
"They would look ok in a vibrant, modern town but in a dilapidated and tired looking town like Walsall, they just stand out like a sore thumb," she said.
"We have recently lost Debenhams and M&S and I can't see them running back to us anytime soon, everyone is calling them Mario pipes, it makes us a bit of a laughing stock."
Responding to the criticism, Walsall Council deputy leader Adrian Andrew said: "The work in Walsall Town Centre is intended to deliver a range of improvements to promote a feeling of wellbeing and safety and enhance the town centre environment and a key element of this work was to introduce more planting into the town centre to create a more social space outside the Walsall Art Gallery."