Ubisoft's latest free PC game is Anno 1404 History Edition
It's being given away as part of the company's 35th anniversary celebrations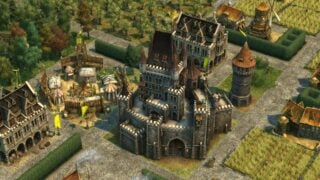 Anno 1404 History Edition is currently free for PC players to download.
The city-building game, which normally costs $14.99 / £12.49 / €14.99 on Ubisoft's store, is available free of charge until December 14 at 2pm (local time).
It's being given away as part of Ubisoft's 35th anniversary celebrations, which last month saw the publisher offer PC players free copies of Assassin's Creed Chronicles Trilogy and Splinter Cell Chaos Theory.
Anno History Collection: Launch Trailer
Ubisoft released the Anno History Collection in June 2020. It includes four entries in the series (1602, 1503, 1701 and 1404) and their expansions, updated for modern PCs with resolutions of up to 4K.
"The Venice expansion for Anno 1404 adds co-operative and competitive multiplayer, new espionage and city council features, as well as new ships, quests and items to expand your empire with," according to Ubisoft.
The company said earlier this week that Assassin's Creed Odyssey will be free to play from December 16-19.
It also confirmed that a new Assassin's Creed Valhalla title update will launch next week and require players to redownload the whole game.
"The upcoming Title Update consolidates the game files, resulting in a smaller overall game size on all platforms," it explained. "Additionally, performance should improve with this data restructuring, with faster loading screen times, improved world data streaming, and overall runtime performance."