Ubisoft wants players 'to form their own opinions'
"We don't want to narrow it down to just political systems or views"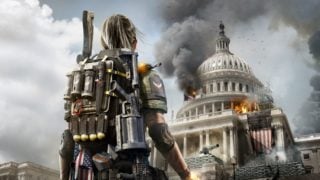 Ubisoft has detailed how, and why, its teams balance apolitical views in games informed by highly politicised real-world events.
While the company acknowledges there are unlikely to be many subjects it deems off-limits, it insists its stance is part of the process of making mature video games as it seeks to share nuanced experiences "versus being black or white".
In a Q&A on Ubisoft's website, VP of editorial Tommy Francois stated the company's stance came from CEO Yves Guillemot with the understanding that Ubisoft's stories "don't want to narrow it down to just political systems or views".
At the same time, Ubisoft wants its games to educate players so they can "formulate their own ideas", he said. "We don't want them to be apolitical. We want them to be include multiple political themes so players can experience multiple points of view, learn from them, educate, and share."
Francois continued: "Yves Guillemot has told us that our goal is to give players all the information we can, and then let them choose which sides of our game worlds they want to explore. We want them to decide what they like, what they don't like, and if and how to change their minds or the way they play based on that information. It's about more freedom for the players.
"But that is incredibly difficult to do," he added." We make simulations that are fueled by systems. Those systems can range from physics, fauna, and flora, to others created by humans, such as companies, politics, and religion. The idea for us is that you are not a spectator. You are an actor. Usually, when you're a spectator and you watch a movie, you will see one point of view per movie – maybe a few. We believe that games should offer a 360-degree view of life, should let people interact with all points of view."
When asked if there were subjects the company would not cover, Francois said: "We have had discussions on how do we deal with this. We are scared sometimes as we are world-building. That was the case for Far Cry 5. It is a great game, but it just wasn't possible to present all points of view and perspectives.
"We believe that ultimately, in the future, players should be able to go in the game world, have as many different experiences as they want, experience as many different political views as they want, as many religions as they want … as many different fantasies as they want."