Ubisoft's NFT announcement gets more than 95% dislikes on YouTube
The Ubisoft Quartz platform has been met with almost universal displeasure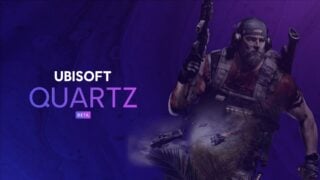 Ubisoft's plans to add non-fungible tokens (NFTs) to its games has been met with overwhelming backlash.
The announce trailer for the Ubisoft Quartz platform was posted on the official Ubisoft North America YouTube channel, and at the time of writing has received over 105,000 views.
Viewers have also clicked 'like' or 'dislike' more than 16,000 times on the video, and the consensus is overwhelmingly in favour of the latter.
At the time of writing, of the 16,270 engagements viewers have made, 804 were likes while 15,466 were dislikes.
This means the percentage of engagements that are positive currently stands at just under 5%.
NFTs are unique non-interchangeable units of data stored in a digital ledger, which users can buy and sell.
Ubisoft is introducing NFTs to its games via Ubisoft Quartz, which it bills as "the first platform for playable and energy-efficient NFTs in AAA games".
Launching this week in beta with the PC version of Tom Clancy's Ghost Recon, it will enable players to acquire 'Digits', which are collectible in-game vehicles, weapons and pieces of equipment.
Digits will be released as part of limited 'Editions', each made up of a fixed number of cosmetic items.
Ubisoft said: "Digits are a new way to experience cosmetic items, combining the fun of playing with AAA quality assets and the thrill of owning NFTs that represent unique, collectible pieces of Ubisoft game worlds."
Each Digit has its own serial number which can be viewed by other players in-game and comes with a certificate of ownership. Players will be able to sell Digits on third-party platforms outside of the Ubisoft ecosystem.
"Our long-term efforts led us to understand how blockchain's decentralized approach could genuinely make players stakeholders of our games, in a way that is also sustainable for our industry, placing back into their hands the value they generate through the time they spend, the items they buy or the content they create online," said Nicolas Pouard, VP of Ubisoft's Strategic Innovation Lab.
"Ubisoft Quartz is the first building block in our ambitious vision for developing a true metaverse. And it can't come to life without overcoming blockchain's early-form limitations for gaming, including scalability and energy consumption."
Ubisoft Quartz will be available in beta starting December 9 at 6pm UTC / 10am PT / 1pm ET in the US, Canada, Spain, France, Germany, Italy, Belgium, Australia and Brazil.
It will launch with three drops of free Digits on December 9, 12 and 15, which will be available on Ubisoft Quartz and playable with in Ghost Recon Breakpoint, with further drops to follow in early 2022.
Related Products
Other Products
Some external links on this page are affiliate links, if you click on our affiliate links and make a purchase we might receive a commission.