Ubisoft Montreal takes over Prince of Persia Sands of Time Remake development
The game, which has already been delayed several times, will be released "when it's ready"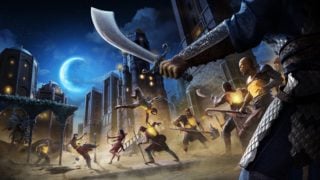 Ubisoft Montreal has taken over development duties on Prince of Persia: The Sands of Time Remake.
The game, which has already been delayed on several occasions, was previously in development at Indian studios Ubisoft Pune and Ubisoft Mumbai.
"The development of Prince of Persia: The Sands of Time Remake will now be led by Ubisoft Montreal, the very birth place of the epic Sands of Time Trilogy," the company said in a statement on Tuesday.
"This decision is an important step and the team, building upon the work achieved by Ubisoft Pune and Ubisoft Mumbai, will now take the time they need to regroup on the scope of the game to deliver you the best experience for this remake of an all-time classic, when it's ready.
"We want to thank you for your continued support and patience throughout the development," it added. "Rest assured, that we will update you on the progress in a future update."
Prince of Persia: The Sands of Time Remake had been in development for two and a half years when it was announced in September 2020.
Following a negative reaction to the game's reveal trailer, its director said Ubisoft had chosen to give the remake "a unique visual treatment" to make it stand out from other titles.
Prince of Persia: The Sands of Time Remake was originally planned for release in January 2021, but it has suffered multiple delays. It was most recently scheduled to release during Ubisoft's current fiscal year which ends on March 31, 2023, but today's announcement suggests that may no longer be the case.
Ubisoft Montpellier is reportedly working on an unannounced, 2.5D Prince of Persia game which is said to take inspiration from Moon Studios' Ori series.
Related Products
Other Products
Some external links on this page are affiliate links, if you click on our affiliate links and make a purchase we might receive a commission.