Ubisoft has officially announced Assassin's Creed Valhalla
Debut trailer for Viking themed game to be released on Thursday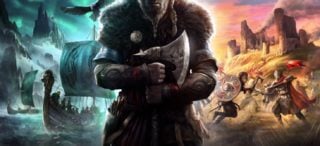 Ubisoft has announced Assassin's Creed Valhalla and will premiere the game's debut trailer on Thursday.
The trailer will be released at 8am PDT / 4pm BST on April 30, the publisher confirmed today. Valhalla was unveiled in an 8-hour live stream during which artwork by Australian digital artist Kode 'BossLogic' Abdo slowly revealed a Viking setting and a bearded protagonist.
Ubisoft said in a statement: "Today, Ubisoft announced the next game in the franchise, Assassin's Creed Valhalla, will have a full reveal on 30th April. The game will take place during the age of Vikings, as previously revealed during a live stream featuring BossLogic earlier today."
You can watch a sped-up timelapse of Abdo's Assassin's Creed Valhalla artwork below.
Following Assassin's Creed's revamp with 2017's Origins and 2018's Odyssey, Ubisoft gave the series a year off in 2019 to prepare for the next game.
A late 2020 release will likely see the new Assassin's Creed debut on next-gen consoles PlayStation 5 and Xbox Series X.
Ubisoft recently suggested it's prepared to delay its games planned for the end of this year should Xbox Series X and PlayStation 5 be postponed due to the coronavirus.
So far Microsoft and Sony have claimed the pandemic will not disrupt their next-gen console launches planned for later this year, with both platform holders having reiterated their intention to hit late 2020 release windows within the past month.
However, there's still much uncertainty surrounding how long the health crisis will last and when companies will be able to return to office-based working.
Ubisoft CEO Yves Guillemot told The New York Times that the company's release schedule hasn't been significantly impacted by a switch to remote working.
He said Microsoft and Sony had "made it possible for our developers to keep using their dev kits" and "to continue creating our next-generation console games" even as the company's staff worked remotely.
However, Guillemot expressed a willingness to delay those games if PS5 and Xbox Series X miss their end-year target.
"We are not seeing significant impact to our own timelines, but we are in touch with all our partners and if there's a need to adjust in order to do what's best for them and for our players, we will do so," he said.
Ubisoft has committed to releasing several games for PS5 and Xbox Series X, including the previously delayed Watch Dogs Legion, Gods & Monsters and Rainbow Six Quarantine.