Ubisoft has delayed extreme sports game Riders Republic
Game slips from February to "later this year"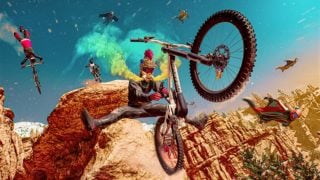 Ubisoft has delayed the release of Riders Republic, the extreme sports game from the studio behind 2016's Steep.
Originally scheduled for release on February 25, the Ubisoft Annecy-developed title will now launch "later" in 2021.
"In September, we gave you a first look at our massive multiplayer playground in Riders Republic," the studio said on Thursday.
"We promised an action-packed outdoor sports park, filled with all-out mass races with more than 50 fellow riders on next-gen consoles, a variety of diverse activities and insane stunts. We can't wait to have you traverse our vibrant world and live out your own rider's fantasy.
"Today, we want to let you know that we have made the decision to move our release to later this year. This additional time will allow our passionate team to deliver the best fun fueled experience to our players."
Riders Republic will let players roam a large open world featuring American national parks Bryce Canyon, Yosemite Valley and Mammoth Mountain, and compete in activities including biking, skiing, snowboarding and wingsuit flying.
It will be released for consoles, Stadia and PC via the Epic Games Store and Ubisoft Store. PS4 and Xbox One owners will be able to upgrade to the PS5 and Xbox Series X/S versions for free.