Ubisoft Forward trailer teases a mystery game for this month's showcase
It will also feature Avatar: Frontiers of Pandora, Assassin's Creed games and The Crew: Motorfest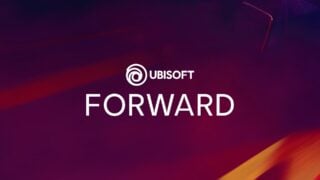 Ubisoft has revealed fresh details about its upcoming Ubisoft Forward product showcase.
A new trailer for the event, which is viewable below, confirms that it will feature Avatar: Frontiers of Pandora, Assassin's Creed Mirage and The Crew: Motorfest, while also teasing an unannounced title.
On Thursday, it was also announced that Assassin's Creed Nexus VR is coming to the Meta Quest store this year, with the game's full reveal planned for Ubisoft Forward.
The livestream will take place on June 12 at 10am PT / 1pm ET / 6pm BST / 7pm CEST, with a pre-show starting 15 minutes earlier. It will be broadcast on Ubisoft's official YouTube and Twitch channels.
Twitch viewers will be eligible to earn Twitch Drops rewards for multiple games (listed below) by watching on Ubisoft's main channel or those of official co-streaming partners.
Watch for 15 minutes to earn the "Slumbering Ikran" Na'vi Weapon Trinket in Avatar: Frontiers of Pandora
Watch for 20 minutes to earn the "Base Camp Duffel" in Riders Republic
Watch for 30 minutes to earn the "Eugene" Raven Skin in Assassin's Creed Valhalla
Watch for 45 minutes to earn the "Oasis Initiate of Alamut Dye" in Assassin's Creed Mirage
Ubisoft recently confirmed that its release schedule for the current fiscal year includes Assassin's Creed Mirage, Avatar: Frontiers of Pandora, Tom Clancy's Rainbow Six Mobile, Tom Clancy's The Division Resurgence, Skull and Bones, The Crew Motorfest, XDefiant and "another large game".
It has been claimed that Ubisoft is planning to release Massive's Star Wars game in early 2024. If true, the open-world title could made an appearance at this month's showcase.
One game that won't be shown is Prince of Persia: The Sands of Time Remake, which is "still in an early stage" of development at Ubisoft Montreal.