Ubisoft digital sales drive full year growth
Microtransactions account for 31.7% of net bookings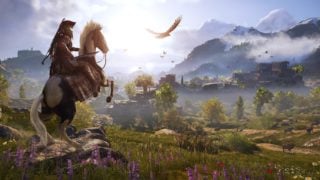 Ubisoft highlighted growing digital sales and record player engagement as it reported its financial results for the fiscal year ended March 31, 2019.
The company also said on Wednesday that it plans to release three "very distinct" full price games in the fourth quarter of the current fiscal year ending in March 2020, but that it's delaying open-world pirate game Skull & Bones to its next fiscal year.
Full year net bookings came in at €2.03 billion ($2.275 billion), up 17.1% year-over-year.
Digital net bookings rose 39% to account for 68.8% of total net bookings, compared to 58% a year earlier.
Player recurring investment (PRI), which includes sales of digital items, DLC, season passes, subscriptions and advertising, was up 33.4% to account for 31.7% of total net bookings, compared to 28% a year earlier.
And back catalogue net bookings were also up 39% to account for 56.5% of total net bookings, compared to 47.6% the year before.
The company said it's now successfully operating a less hit-driven business model — it can rely on back catalogue titles to continue to make money over an extended period, meaning it's "significantly less exposed to new releases".
Non-IFRS net income for the fiscal year came in at €333.5 million ($373.7m), up from €220.6 million ($247.2m) the previous year.
Among its annual highlights, Ubisoft said its non-mobile games attracted 100 million active unique players, a company record for overall player engagement.
It said Assassin's Creed Odyssey set franchise records for player engagement and PRI, while Rainbow Six Siege has now generated more than €1 billion ($1.12 billion) in cumulative net bookings since its December 2015 release, with the game seeing a 40% year-on-year increase in its player base to over 45 million.
For the current fiscal year, Ubisoft's targeting net bookings of around €2.185 billion ($2.45 billion), and non-IFRS operating income of €480 million ($537.9m).
"The video game industry is at the dawn of a deep-seated transformation, which, as barriers between platforms and between geographic regions continue to disappear, should allow us to reach five billion players over the coming ten years," CEO Yves Guillemot said. "These major changes will be driven in large part by the growing success of console and PC franchises on mobile and the advent of cloud gaming.
"The latter will allow for, among other things, appealing multi-screen offerings and the creation of amazing new experiences that make use of unprecedented technological capacities."
Related Products
Other Products
Some external links on this page are affiliate links, if you click on our affiliate links and make a purchase we might receive a commission.