Ubisoft developer explains its AI writing tool in more detail
The Ubisoft Ghostwriter tool was met with criticism when announced yesterday
A developer at Ubisoft has shed more light on the company's new AI writing tool, Ghostwriter.
Ghostwriter was announced yesterday and was met with a negative response by a number of game developers calling for the company to invest in human writers instead.
However, at the Game Developers Conference yesterday Ubisoft La Forge researcher Ben Swanson gave a breakdown of how the tool works, stressing that it still requires human input.
As reported by Game Developer, Swanson stated during his presentation that Ghostwriter is not used for cinematics or lore, but is more about making 'barks' – lines players hear from NPCs as they pass by them in a game.
According to Swanson, the tool is mainly used for four different purposes. The first is to generate lines based on an NPC's motivation – a writer will input the NPC's situation and the tool will suggest lines for them.
In an example slide given, the writer entered that the NPC had been kidnapped, and the tool came up with the line, "there's no way I'm getting out of this". They then entered that the NPC was talking to their boss, and the tool gave them "I'm just one of your employees".
The tool's second use is to generate a large number of lines for crowds. Until now, writers have had to come up with all the throwaway lines of dialogue and half-conversations players hear when they walk past people in a street in open-world games, but Ghostwriter can generate these lines instead.
The third use is to make 'double act' dialogue. The writer can set the role of two different NPCs and a topic, and the AI will make up a conversation between them. Swanson stated again that these aren't main story points, just callouts related to gameplay or even random discussions.
In an example given, the writer inputted a thug, a police officer and a robbery and the AI came up with: "So you're the one who's been robbing the toy stores." "What are you talking about? I'm a grown man, no time for toys."

Finally, the tool can also use what Swanson calls 'paraphrase barks', which means if a writer needs to come up with multiple variations on the same line. The examples given were lines like "I'm reloading" or "we can talk about that later", which may be used multiple times in a game.
According to Game Developer, Swanson stressed that the tool was made to address 'pain points' in the writing process, and that it still requires writers to use it (rather than replacing them outright).
When the tool comes up with lines, writers are given a pair of choices and can accept or reject them, with their choices being sent back to Ghostwriter to help it come up with better responses in the future.
Following the initial publication of our story on Ghostwriter yesterday, many game developers on social media reacted negatively to Ubisoft's announcement and called for the company to invest in human writers instead.
Sony Santa Monica writer Alanah Pearce wrote: "As a writer, having to edit AI-generated scripts/dialogue sounds far more time consuming than just writing my own temp lines. I would far prefer AAA studios use whatever budget it costs to make tools like this to instead hire more writers."
Related Products
God of War Ragnarök (PS5)
Assassin's Creed Mirage (PS5)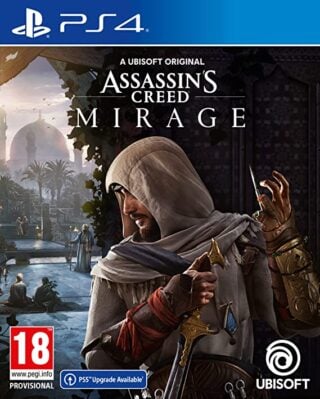 Assassin's Creed Mirage (PS4)
Other Products
Some external links on this page are affiliate links, if you click on our affiliate links and make a purchase we might receive a commission.