Two SNES games will make US debuts in the next Switch Online update
Smash Tennis and Pop'n TwinBee among new titles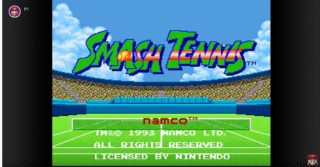 Nintendo has announced four new titles set to join Nintendo Switch Online's library of classic games on February 19, including two making their US debuts.
SNES titles Smash Tennis and vertically scrolling shooter Pop'n TwinBee, neither of which have ever been released in the US, will be available to subscribers as part of February's update.
NES games Shadow of the Ninja and Eliminator Boat Duel will also join the service next week.
New NES and SNES games for Nintendo Switch Online are released on an "irregular" basis following September 2019's launch of the SNES library. Prior to that, new NES titles were added to the subscription service on a monthly basis.
The last Switch Online software update arrived in December with the addition of Star Fox 2, Super Punch-Out, Kirby Super Star and Breath of Fire II for SNES, plus Crystalis and Journey to Silius for NES.
Launched in September 2018, Nintendo Switch Online is required to play most Switch games online (Fortnite is a notable exclusion). Members can also back up save data online and receive special offers including free access to Tetris 99.
Nintendo Switch Online has over 15 million paying members, the platform holder said in January.
It represents a significant portion of the console's user base — Nintendo also said Switch shipments have exceeded 52 million units, with sell-through (unit sales by retailers to consumers) totalling some 48 million.