Turn 10 reveals Forza Motorsport cover art and gameplay showcase plans
A single player career gameplay walkthrough is coming in mid-June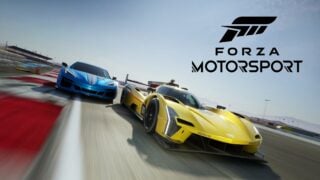 Turn 10 Studios has revealed Forza Motorsport's cover art and confirmed plans to showcase the racing game next month.
Viewable above, the game's box art features the 2023 No. 01 Cadillac Racing V-Series.R and 2024 Chevrolet Corvette E-Ray.
The studio said it plans offer "an up-close look at the cars" during the Xbox Games Showcase on June 11 and "a full walkthrough of our single player career gameplay" during a Forza Monthly stream on June 13.
Xbox announced last June that the game would be released in the spring of 2023 and said separately it was scheduled for release in the first half of the year.
But during January's Xbox and Bethesda Developer_Direct showcase, an update on the game only confirmed that it was still targeting a 2023 release, leading to claims that it had been delayed to the second half of the year.
Microsoft recently confirmed that the Xbox Series X/S and PC game will also be playable on Xbox One as a cloud version.
"Forza Motorsport has been built from the ground up to leverage the full power and performance of Xbox Series X/S consoles and deliver our most beautiful, technically advanced game yet," it said.
"While there will not be a native Xbox One version of the game, Xbox One players can stream Forza Motorsport through Xbox Cloud Gaming (Beta) included in Xbox Game Pass Ultimate."