Turn 10 explores 'a completely different way' of working for Forza sequel
"We put the player in the centre of everything we do"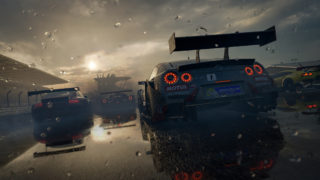 There was no new Forza game announced at Microsoft's E3 conference yesterday, but Turn 10 has reiterated that it has shifted "focus away from Forza Motorsport 7 and towards [its] next project".
The studio has released a new Forza Motorsport instalment every two years since 2005, the last being 2017's Forza Motorsport 7, but franchise creative director Dan Greenawalt has admitted that with regards to a release window for an upcoming sequel, "we don't have one".
"I announced on a stream a few months back that we were shifting the weight of our studio – we were changing our focus – away from Forza Motorsport 7 and towards our next project, but that we were doing it all very, very differently," he told IGN.
"And that's very true; we're taking this fan-first, player-first approach where we're bringing players in in different capacities to have them help us ideate on what we build next, and prototype new ideas and new thoughts.
"In the last five years, in particular, it's become almost acutely clear to me that we've really transitioned from a time where we were all about just making products, to a time where we're trying to build community," Greenawalt added.
"We say around here in the hall – in fact, I just got done doing a team meeting where I was talking to the team about this – that our ultimate goal is to shape the future of automotive entertainment. And the way we're going to do that is by building communities of gamers and people who love cars and bring people together in new ways."
Greenawalt said that as the studio has supported Forza Motorsport 7 for longer than it had ever traditionally done so – "we've done so many updates for that game" – "Motorsport itself is actually in concept" and the team was working, and being managed, in a completely new way as it built new tools and learned new processes.
"That was a completely different way of operating as a team, and we wanted to take enough time that it would seep into our culture," he explained. "I've been making games a while; my experience is that ideas flow from great culture. And great games flow from great culture. But if your culture is in a bad spot it's going to be almost impossible to make really great experiences, and it's certainly going to be hard to innovate.
"So by taking a step back and not only working on our culture of innovation internally but also on how we innovate – how we put the player in the centre of everything we do – it allowed the team to work through, 'Well, is this about cadence?' No. It's no longer about any of that anymore. It's now about the player, and then act that way. It's one thing to say it. It's another thing to act that way for a year and really let it seep into your culture and how you do development."
While a new Forza game won't be shown at E3, Microsoft did announce the next Forza Horizon 4 expansion during its Xbox conference on Sunday. It's a Lego-themed world which will be released this Thursday, June 13.