Travis Touchdown returns in No More Heroes 3
Coming to Switch in 2020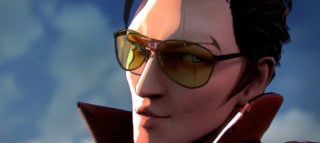 Nintendo has announced No More Heroes 3 for Nintendo Switch.
The game, which is in development at Grasshopper Manufacture, was given a 2020 launch window in a short trailer shown during the Nintendo Direct E3 broadcast.
"Travis Touchdown returns to Santa Destroy after a 10-year absence," Nintendo says by way of a brief press release. "There he finds a huge artificial island metropolis floating in the sea, and a mysterious flying object hovering high above."
The first two games in the Grasshopper Manufacture series were released on Wii, while spin-off Travis Strikes Again: No More Heroes launched on Switch in January 2019.
"Thanks to everyone's support of TSA, we are finally able to make the dream come true," developer Suda51 said on Twitter. "Thank you all so much! Our main man has returned to the bloodsoaked world of killing. No More Heroes III Welcome to the Garden of Madness."