Tokyo Olympics opens with video game music
Sonic, Final Fantasy, Dragon Quest and others accompany the Parade of Nations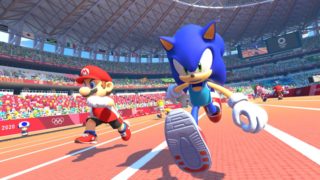 The 2020 Tokyo Olympics has opened with a suite of video game music.
The Parade of Nations, a lengthy process in which all 11,260 athletes taking part in the Games enter an arena, has been accompanied by orchestral renditions of music from video games developed in Japan.
A total of 14 games were represented during the parade, including the likes of Final Fantasy, Monster Hunter, Dragon Quest, Sonic the Hedgehog and Chrono Trigger.
According to Nikkan Sports, the full list of tracks featured during the ceremony is:
Dragon Quest – Introduction: Roto Theme
Final Fantasy – Victory Fanfare
Tales of Series – Sley's Theme
Monster Hunter – Proof of Hero
Kingdom Hearts – Olympus Coliseum
Chrono Trigger – Frog Theme
Ace Combat – First Flight
Tales of Series – Royal Capital
Monster Hunter – Wind of Departure
Chrono Trigger – Robo's Theme
Sonic the Hedgehog – Star Light Zone
Winning Eleven (PES) – eFootball Walk-On Theme
Final Fantasy – Main Theme
Phantasy Star Universe – Guardians
Kingdom Hearts – Hero's Fanfare
Gradius (Nemesis) – 01 Act 1-1
NierR – Initiator
Saga Series – Makai Ginyu Poetry Saga Series Medley 2016
SoulCalibur – The Brave New Stage of History
The Olympic Games were delayed 12 months due to the Covid-19 pandemic, but will now take place without foreign spectators this month.
Tokyo 2020 referenced Japan's video game heritage with its very first ceremony appearance at the Rio 2016 closing show, when then prime minister Shinzo Abe emerged from a Super Mario pipe dressed as the Nintendo mascot.
NBC is currently broadcasting Tokyo 2020 Olympic Games coverage via Twitch.
NBC is tailoring the content for the gaming-focused live stream platform in an attempt to court a younger audience that doesn't watch television often.
Related Products
Other Products
Some external links on this page are affiliate links, if you click on our affiliate links and make a purchase we might receive a commission.