THQ Nordic's annual digital showcase is returning in August
Alone in the Dark, Outcast 2 and Trine 5 set to feature alongside new game reveals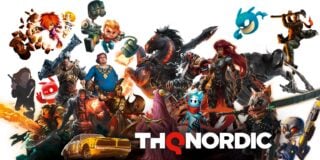 THQ Nordic will hold its third annual digital showcase event this summer.
Viewable on YouTube, Twitch and Steam, the event will air on Friday August 11, 2023 at 12pm PDT / 3pm EDT / 8pm BST / 9pm CEST / 10pm EEST.
"This year's showcase will not only include world premiere announcements but also updates and reveals for previously-announced games," the company said on Thursday.
Titles confirmed to be on show at the event include Alone in the Dark, Outcast 2 and Trine 5.
The highlight of last year's THQ Nordic digital showcase was Alone in the Dark, the current-gen reboot of the classic horror franchise.
The third-person single-player horror game has been in development for five years at THQ's Swedish studio Pieces Interactive, with Mikael Hedberg (Amnesia, SOMA) directing and writing the game and monster designs by Guy Davis (Evolve, Pacific Rim).
Also featured at the showcase were Tempest Rising, Space for Sale, Wreckreation, Gothic, Jagged Alliance 3, Outcast 2 – A New Beginning, SpongeBob – The Cosmic Shake, AEW: Fight Forever, Knights of Honor II: Sovereign, Destroy All Humans! 2 – Reprobed, Way of the Hunter, Stuntfest – World Tour, and The Valiant.
THQ Nordic announced last week that Destroy All Humans 2: Reprobed is getting a last-gen port, with its multiplayer functionality removed.