THQ Nordic is reportedly teasing a TimeSplitters 2 Remake
UPDATE: Publisher claims it was "pure fun"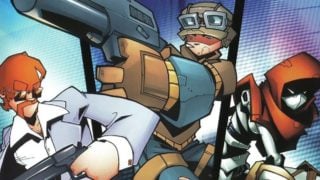 A remake of classic PS2 shooter TimeSplitters 2 is reportedly being teased in a new THQ Nordic RTS title.
SpellForce 3: Fallen God released for PC last week, and players have since discovered that several in-game items can be acquired which refer to upcoming and released THQ Nordic titles.
The items include Biomutant, Gothic Remake, SpongeBob SquarePants: Battle for Bikini Bottom's remaster and "TimeSplitters 2 Remake".
UPDATE: THQ Nordic has claimed that the in-game item put in its latest release referencing "TimeSplitters 2 Remake" was as a joke.
ORIGINAL STORY CONTINUES: As captured by a YouTube user (thanks to VGC reader Mat Ombler for the tip), the item's description reads, translated from French: "It's finally coming! The iconic shooter, which has stood the test of time to join the era of modern games."
TimeSplitters owner THQ indicated last year that it was planning a future instalment in the series, with the hiring of original co-director Steve Ellis to "help plot the future course for [the] franchise".
However, it did not state whether its plans included remasters of the original games. The SpellForce teaser could yet turn out to be a practical joke on behalf of its developer, but VGC has requested comment from THQ Nordic to hear its official stance.
Three titles in the TimeSplitters franchise released for PS2, Xbox and GameCube in the early 2000s, before developer Free Radical was acquired by German developer Crytek, where it was renamed Crytek UK and eventually sold on to Koch Media.
Koch and its Deep Silver publishing label were acquired by THQ Nordic in February 2018 and the group purchased the TimeSplitters property in August of the same year, along with another Free Radical developed title, Second Sight.
"We are hugely excited to have acquired Timesplitters," Koch Media CEO Klemens Kundratitz said at the time.
"The original games gave fans a massive content offer and provided a pure and genuinely fun arcade shooter experience. We have many fans of the Timesplitters series among our own staff who are passionate about creating a product that will thrill today's gaming audience."

TimeSplitters co-director Steve Ellis later told VGC he had "unfinished business" with the FPS series and that the chance to revive it was "hard to ignore".
"Personally I always saw TimeSplitters as 'unfinished business'," he said. "It was a series that was ahead of its time, from the days when shooters were all brown and games weren't online.
"It feels like it's time has now come, so the opportunity to work on it was hard to ignore."
Series composer Graeme Norgate told VGC in a separate comment: "I'm really happy it's finally got off the ground, 14 years since the last release. Let's hope Steve decides to get the old band back together!"
Related Products
Other Products
Some external links on this page are affiliate links, if you click on our affiliate links and make a purchase we might receive a commission.