THQ Nordic announces new games including Destroy All Humans! 2 remake and Outcast 2
Plus a new SpongeBob 3D platformer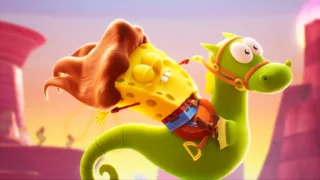 THQ Nordic announced six new games during its 10th anniversary showcase on Friday, including a new SpongeBob 3D platformer and a remake of Destroy All Humans! 2.
The publisher also revealed Outcast 2, MX vs. ATV: Legends, Super Power 3 and Jagged Alliance 3.
SpongeBob SquarePants: The Cosmic Shake has players exploring seven worlds in a new SpongeBob adventure developed by Purple Lamp Studios for PC, PS4, Xbox One and Nintendo Switch
"This is the SpongeBob experience gamers have been waiting for," said Senior Producer Martin Kreuch. "With new platforming skills like the karate kick and a true, buddy comedy design approach, saving the universe will be ridiculously fun."
​​Destroy All Humans! 2 – Reprobed is a full remake of the 2006 game, adding features while re-building the game in Unreal Engine 4. The remake is developed by Black Forest Games, who re-launched the Destroy All Humans! franchise in 2020.
Outcast 2 is developed by the original team behind the first Outcast, Appeal Studios. THQ Nordic says the sequel to the 1999 open-world action-adventure classic features "fast-paced 3rd person combat as well as a non-linear Science-Fantasy story with dynamic plot progress based on player actions."
Exec producer Michael Paeck said: "This is a true labor of love – a proper sequel to a cult-classic! Cutter's special powers during combat combined with wild enemy behaviors will keep action gamers guessing!"