These are the 40 Game Boy Advance games 'tested for Switch's emulator'
Files for the Nintendo-made Game Boy emulators leaked onto the internet this weekend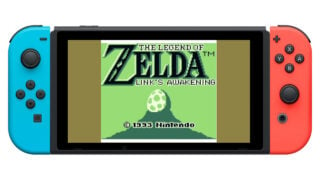 Nintendo has tested over 40 Game Boy Advance games for its Switch emulator, according to data pulled from a build leaked this weekend.
According to known dataminer MondoMega, more than 40 games are either included or referenced within the leaked GBA emulator files. As noted by the user, this doesn't necessarily mean they'll launch with any likely Game Boy Nintendo Switch Online service.
Files for the Switch emulators began circulating on social media this weekend, including a Game Boy emulator called 'Hiyoko' and a Game Boy Advance emulator named 'Sloop'.
The emulators were reportedly dumped from a Switch console, suggesting that work may be underway to include the classic handheld systems as part of Nintendo Switch Online.
The leaked GBA build also reportedly includes various games, as well as references to others, including first-party titles such as The Legend of Zelda: Minish Cap and Metroid Fusion, as well as third-party games including Castlevania: Aria of Sorrow and Mega Man Battle Network 2.
The GBA emulator games reportedly tested by Nintendo include:
Astro Boy: Omega Factor
Car Battler Joe
Castlevania: Aira of Sorrow
Castlevania: Circle of the Moon
ChuChu Rocket!
Drill Dozer
Fire Emblem: The Sacred Stones
F-Zero: Maximum Velocity
Game & Watch Gallery 4
Golden Sun
Golden Sun: The Lost Age
Gunstar Super Heroes
Harvest Moon: Friends of Mineral Town
Kingdom Hearts: Chain of Memories
Kirby and the Amazing Mirror
Koro Koro Puzzle Happy Panechu!
Kuru Kuru Kururin
Lufia: The Ruins of Lore
Mario & Luigi: Superstar Saga
Mario Golf. Advance Tour
Mario Kart Super Circuit
Mario Party Advance
Mario Tennis: Power Tour
Mario vs. Donkey Kong
Mega Man Battle Network 5 – Team ProtoMan
Mega Man Battle Network 2
Mega Man Zero 3
Metroid Fusion
Metroid: Zero Mission
Driller 2
Ninja Five-O
Pokémon Mystery Dungeon: Red Rescue Team
Pokémon Pinball: Ruby & Sapphire
Super Mario Advance 4: Super Mario Bros. 3
Super Robot Taisen: Original Generation
Tactics Ogre: The Knight of Lodis
Wario Land 4
WarioWare, Inc.: Mega Microgames!
Yoshi's Island: Super Mario Advance 3
The Legend of Zelda: The Minish Cap
According to MondoMega, the leaked GBA emulator also includes plenty of screenshots of Pokémon games Ruby, Saphire and Emerald, suggesting those titles have also been tested for the emulator.
The build for the Game Boy Color emulator is said to be a lot earlier than GBA, and only includes four games: Super Mario Land, Link's Awakening DX, Tetris and Qix.
It has been speculated for some time that both Game Boy consoles would join Nintendo Switch Online's classic games offering, with multiple sources claiming last year that Game Boy and Game Boy Color games were likely to be added "really soon".
In early 2019, dataminer OatmealDome discovered that the NES Switch Online app contained references to four emulators – Kachikachi, Canoe, Hiyoko and Count.
Nintendo Switch Online currently offers a range of games from the NES, SNES, N64 and Sega Mega Drive.
Related Products
Other Products
Some external links on this page are affiliate links, if you click on our affiliate links and make a purchase we might receive a commission.