The xScreen portable Xbox Series S display has reached its Kickstarter target in 20 minutes
The Australian-made add-on turns the Series S into a portable console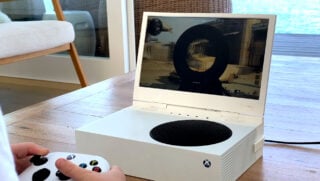 A portable screen designed to plug directly into the Xbox Series S reached its Kickstarter goal in just 20 minutes.
The xScreen was announced last month ahead of its planned Kickstarter campaign, with anyone interested able to reserve the peripheral for $1 and lock in 'early bird' pricing of $159 (compared to the full price of $249).
The Kickstarter officially launched yesterday, and reached its AU$13,000 goal within 20 minutes. At the time of writing, it sits at over AU$71,000 ($53,000) with 28 days remaining.
The xScreen is designed to plug into the Series S's HDMI and USB ports and folds up to offer an 11.6″ IPS screen.
The result is similar to portable screens that were designed for the PSOne and GameCube which essentially turned those consoles into 'portable' devices (as long as a power supply was nearby).
The screen has a resolution of 1080p and a 60 Hz refresh rate, meaning any Series S games that support 4K or 120fps won't be able to use these features on the xScreen.
It includes integrated power, meaning it can be powered through the Series S without a need for a second power adapter.
It also features an integrated 5-watt speaker, as well as a latch that holds the screen in place without detaching from the console.
According to its creator UPspec Gaming, the screen will only weigh 695g and can be placed in a 15″ laptop bag along with the Series S for transportation.