The Xbox Series X mini fridge launches in December for $100 / £90
The replica fridge will hold 12 cans of drink, among other features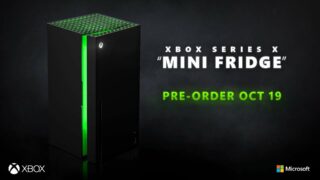 Microsoft has announced launch plans for the Xbox Series X mini fridge.
Priced at $99.99 / £89.99 / €99, pre-orders will go live on October 19 ahead of the product's release in December 2021.
Initially, the Xbox mini fridge will be available at Target and on Target.com in the US, via Target.com in Canada, from Game in the UK, and from GameStop EU, Micromania and Toynk (via Amazon) in France, Germany, Italy, Ireland, Spain, Netherlands, and Poland.
Microsoft said it's working to bring the Xbox mini fridge to as many regions as possible "pending regulatory approvals and restrictions by market".
Xbox Mini Fridge - World Premiere
Created in partnership with Ukonic, the Xbox mini fridge holds up to 12 cans of drink. It also includes a USB port for charging devices and comes with a DC power adapter so that it can function on the go.
Xbox Series X fridges have been a running joke among fans ever since the console was revealed in December 2019, which led to various memes comparing its unique design to that of a refrigerator.
Responding to the memes, Microsoft made real, full-sized Series X fridges in October 2020, sending one to influencer iJustine and another to rapper Snoop Dogg. The promotional items functioned exactly like a normal fridge but made the Xbox Series X boot-up sound when the door was opened.
In March 2021, Microsoft resurrected the meme by producing some Series X mini fridges as a promotional tie-in with Dwayne 'The Rock' Johnson's new energy drink brand ZOA.
After fans asked how they could get their own mini fridge, Xbox said they were only being made for promotional purposes, and that while some could be won by entering sweepstakes on the Microsoft Rewards site, they weren't being made available for general sale.
But Microsoft changed its mind in April when it confirmed plans to start producing and selling the mini fridges after narrowly winning a Twitter marketing competition which pitted popular brands against each other.