The Xbox mini fridge has been released early
The replica product is now available in the US, while UK pre-orders are open again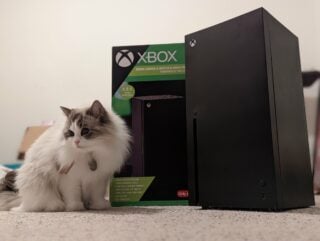 The Xbox mini fridge has gone on sale earlier than expected.
Microsoft opened pre-orders for the $100 / £90 / €99 mini fridges in mid-October ahead of the product's then-planned launch in December, but it has been released ahead of schedule.
Some US-based users have spotted mini fridges on sale at Target stores, while the retailer has also started shipping pre-orders.
Created in partnership with Ukonic, the Xbox mini fridge holds up to 12 cans of drink. It also includes a USB port for charging devices and comes with a DC power adapter so that it can function on the go.
Initially, it will be available at Target and on Target.com in the US, via Target.com in Canada, from Game in the UK, and from GameStop EU, Micromania and Toynk (via Amazon) in France, Germany, Italy, Ireland, Spain, Netherlands, and Poland.
Microsoft said last month that it's working to bring the Xbox mini fridge to as many regions as possible "pending regulatory approvals and restrictions by market".
The product isn't currently available to order online at Target, but it can be pre-ordered at Game in the UK, although purchasers may not receive the product until next year.
Xbox mini fridge pre-orders have previously been snapped up quickly. To make matters worse for those who missed out, a number of these pre-orders have been listed on eBay with prices going way beyond the $100 / £90 retail price.