The Witness is currently free on Epic Games store
Will be followed by sci-fi action RPG Transistor on April 18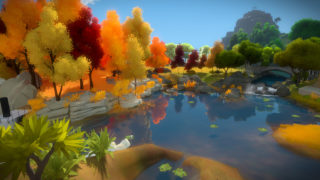 The Witness is now free to download from the Epic Games store until April 18.
Developed by Braid designer Jonathan Blow and his team at Thekla, it's a first-person puzzle game in which players explore a visually arresting, abandoned island in a bid discover clues, regain their memory, and ultimately find their way home.
Originally released in 2016, The Witness normally costs £29.99 on the Epic Games store.
The Epic Games store offers users a free game every two weeks. Following The Witness, sci-fi action RPG Transistor will be free to download until May 2.
Epic announced at GDC in March that Ubisoft back catalogue titles will join its free game programme at a later date.
It also said the Epic Games store's user base had grown to over 85 million PC players since launching as a rival to Steam in December 2018.
It offers developers an 88 per cent share of the revenue their games bring in, compared to the 70/30 per cent revenue split offered by Valve.
The more attractive revenue split has helped Epic secure some major PC exclusives, including February 2019 release Metro: Exodus and the recently announced Borderlands 3, which won't arrive on other PC storefronts until six months after its initial release.