The winners of the first ever Scottish Games Awards have been revealed
GTA co-creator Dave Jones and Cloudpunk are the big winners on the night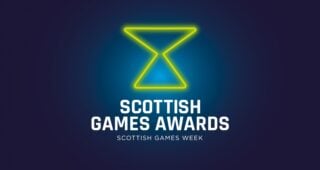 The first ever Scottish Games Awards have just finished, and the winners have been announced.
The inaugural event, which was designed to celebrate the best talent in Scotland, took place in Dundee as part of the first ever Scottish Games Week.
A total of 12 awards were given out on the night, bringing together a wide range of disciplines and specialities from across the games ecosystem and beyond.
ION Lands' Cloudpunk, whose writer is from Glasgow, won three awards on the night, while Dave Jones – who designed Lemmings, produced Grand Theft Auto and directed Crackdown – won the Lifetime Achievement award.
The full list of winners is as follows:
ART & ANIMATION
Winner – Cloudpunk (ION Labs)
Runners-up:
Just Take Your Left (Mehrdad Rezaei)
Train Sim World 2: Island Line 2022 (Rivet Games)
---
AUDIO
Winner – SOLAS 128 (Amicable Animal)
Runners-up:
Train Sim World 2: Island Line 2022 (Rivet Games)
A Bonnie Odyssey (Astrodreamer Studio)
---
BEST EDUCATIONAL PROGRAMME
Winner – Dundee & Angus College: HN Games Development
Runners-up:
University of the West of Scotland Games Development Programme
Robert Burns' Farm at Ellisland in Minecraft
---
BEST EDUCATOR
Winner – Dr Lynn Love
Runners-up:
Erin Hughes
Daisy Abbott
---
BEST LARGE-BUDGET GAME
Winner – Cloudpunk (ION LANDS)
Runners-up:
Island Saver (Stormcloud)
From the Depths (Brilliant Skies Ltd.)
---
BEST SMALL-BUDGET GAME
Winner – The Baby in Yellow (Team Terrible)
Runners-up:
SOLAS 128 (Amicable Animal)
The Black Iris (Jamie Ferguson)
---
CREATIVITY
Winner – Cloudpunk (ION LANDS)
Runners-up:
SOLAS 128 (Amicable Animal)
Temple of Snek (Aetheric Games)
---
DIVERSITY CHAMPION
Winner – Tanya Laird
Runners-up:
Searra Dodds
Joanne Lacey
---
LIFETIME ACHIEVEMENT
Winner – Dave Jones
Runners-up:
Tanya Laird
Chris Sawyer
---
STEWART GILRAY AWARD (COMMUNITY SPIRIT)
Winner – Colin Macdonald
Runners-up:
Malath Abbas
Dr Amanda Ford
---
TECHNICAL ACHIEVEMENT
Winner – From the Depths (Brilliant Skies Ltd.)
Runners-up:
Monstrum 2 (Team Junkfish)
A Bonnie Odyssey (Astrodreamer Studio)
---
TOOLS & TECHNOLOGY
Winner – Dislectek
Runners-up:
Murder Mystery Machine
Kythera AI