The complete Super Mario Advance series is now available on Switch Online
The GBA games are available for Expansion Pack tier subscribers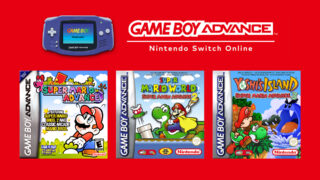 The complete Super Mario Advance series is now available on Nintendo Switch.
On Friday, Nintendo added Super Mario Advance, Super Mario World: Super Mario Advance 2 and Yoshi's Island: Super Mario Advance 3 to Switch Online's Expansion Pack tier.
They join Super Mario Advance 4: Super Mario Bros. 3, which was released in February when Nintendo launched its Game Boy library for Switch Online.
Super Mario Advance – Fling veggies (and lots of other stuff) at foes with Mario, Luigi, Peach and Toad in this powered-up version of the NES™ Super Mario Bros ™ 2 game! In Subcon, the land of dreams, Mario and friends each have their own distinct abilities to aid them in the adventure: Luigi jumps the highest, Peach can hover over obstacles, Toad can grab items faster than anyone and Mario is an all-arounder who's great in any situation. This Game Boy Advance™ version of Super Mario Bros. 2 also features added surprises to discover and challenges to take on, including one featuring Yoshi. Wa-hoo!
Super Mario World: Super Mario Advance 2 – Bowser has taken over Dinosaur Island and it's up to Mario and Luigi to stop him – but they're not alone, because Yoshi is along for the ride! Every level, secret and Power Up from the Super NES™ Super Mario World is here alongside additional features and surprises. This Game Boy Advance classic also includes the option to play the entire adventure as Luigi with his Super Mario Advance abilities. Those Chargin' Chucks won't know what hit 'em when they encounter this high-jumping bro!
Yoshi's Island: Super Mario Advance 3 – Yoshi's back, baby! Colorful worlds, giant bosses, secrets and enemies galore await in this Game Boy Advance version of the Super NES classic that first introduced Baby Mario. Join a flock of multicolored Yoshi and save the infant Mario brothers from the clutches of the villainous Magikoopa Kamek in this vibrant, egg-tossing adventure. Just make sure you keep an eye on the baby – he may be cute, but he's a total crybaby!

Game Boy and Game Boy Color games are available as part of the standard Switch Online subscription, which costs $19.99 / £17.99 / €19.99 for a 12-month individual membership.
Game Boy Advance games require the Expansion Pack add-on, which is also needed to play N64 and Sega games and costs $49.99 / £34.99 / €39.99.
Nintendo previously confirmed a number of games that will be coming to Switch Online's Game Boy library in the future. Upcoming Game Boy games include The Legend of Zelda: Oracle of Seasons / Ages, Pokémon: Trading Card Game and Kirby Tilt & Tumble.
Upcoming Game Boy Advance games include Kirby and the Amazing Mirror, Fire Emblem: The Blazing Blade, F-Zero Maximum Velocity and Golden Sun.
Related Products
Other Products
Some external links on this page are affiliate links, if you click on our affiliate links and make a purchase we might receive a commission.