The VR Games Showcase announced for Gamescom
Studios collaborate to stage event for media and content creators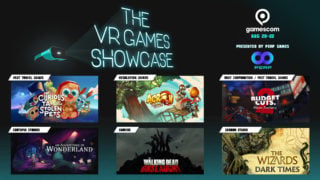 Six game studios have teamed up to put on a new event at Gamescom 2019 called The VR Games Showcase.
Taking place from August 20-22 in the business hall at Gamescom, Cologne, the event will offer press and content creators hands-on sessions with up to six games in addition to developer interview opportunities.
The VR Games Showcase is being sponsored by publisher Perp Games. Participating companies and games include:
Fast Travel Games (Apex Construct): First hands-on with The Curious Tale of the Stolen Pets
Neat Corporation (Budget Cuts): Exclusive hands-on content with Budget Cuts 2: Mission Insolvency (co-developed with Fast Travel Games)
Survios (Raw Data, Creed, Sprint Vector): First hands-on with the story mode with characters from the show The Walking Dead: Onslaught
Resolution Games (Angry Birds VR: Isle of Pigs, Bait!): First hands-on with Acron: Attack of the Squirrels!
Carbon Studio (The Wizards, Alice VR): First hands-on with The Wizards: Dark Times
Cortopia Studios (Wands VR): First hands-on with "An Adventure in Wonderland" (Final title and info revealed at Gamescom)
Fast Travel Games marketing manager Andreas Juliusson, who came up with the concept for the event, said: "The VR industry is still young and most active VR game studios are relatively small, like us, with the same kind of marketing challenges and lack of resources.
"However, if multiple studios would join forces to share costs and efforts, I believed we would be able to deliver a real heavyweight event concept with clear value for both media and content creators to attend."
Gamescom 2019 will launch with a new livestreamed event produced by Geoff Keighley and Kimmie H. Kim, executive producers of annual industry show The Game Awards.
Titled Gamescom: Opening Night Live, it will air on Monday August 19, ahead of the trade fair running from August 20 to August 24.
Blizzard recently said it won't have a booth at Gamescom "as part of a renewed effort this year" to maintain its focus on development.