The UK's biggest selling video game franchises ever are FIFA, CoD and Mario
Lego and Grand Theft Auto also appear high on the charts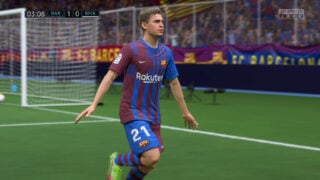 FIFA, Call of Duty and Super Mario are the biggest video game franchises in UK history in terms of boxed-only sales, according to retail data.
As reported by Gi.Biz using information gained from GfK, the football simulator has dominated the charts with Call of Duty coming in second place.
In the 30-year span that the data covers, Call of Duty has released 32 games while the FIFA series, including spin-offs, has released 50. As Gi.Biz notes, while FIFA is annualised, offshoots like FIFA Street and the various tournament-themed releases such as FIFA World Cup South Africa 2010 are also included in the data.
The Mario franchise, which GI notes includes all of Mario's sub-brands such as Mario Kart, and the various Mario sports games is in third place. The biggest selling titles include Mario Kart Wii and the perenially chart-occupying Mario Kart 8 Deluxe.
FIFA 22 review - video version
Rockstar's Grand Theft Auto series is the fourth best selling video game franchise in UK history. According to the data, Grand Theft Auto 5, which has been released on the PlayStation 3 and Xbox 360 in 2013, the PC, the PlayStation 4 and Xbox One in 2014 and the PlayStation 5 and Xbox Series consoles in 2022 makes up 40% of the franchises' overall sales.
It's worth noting that the retail version of GTA 5 on PS5 and XSX consoles have yet to release, so are not currently counted in the data.
In a quote provided to GamesIndustry.biz, Dorian Bloch, GfK's senior client insight director for Gaming said: "This is a fascinating list and anyone who has been following the development of the video game industry as I have will no doubt show little surprise at the sheer value, size, and breadth of this market."
It's worth noting that the list is heavily skewed by the lack of digital sales, especially where it pertains to franchises that have released fewer titles since the increase in digital market share, such as Harry Potter, Wii Fit and the Guitar/DJ Hero franchise.
---
The UK Top 30 Selling Video Game Brands by Revenue
Via Gi.biz
| No. | Name | Title Count | Series Start | Publisher |
| --- | --- | --- | --- | --- |
| 1 | FIFA | 50 | 1993 | EA |
| 2 | Call of Duty | 32 | 2003 | Activision Blizzard |
| 3 | Mario | 109 | 1987 | Nintendo |
| 4 | Grand Theft Auto | 21 | 1997 | Rockstar |
| 5 | LEGO | 77 | 1997 | Warner/LucasArts/TT Games/Eidos |
| 6 | Star Wars | 113 | 1983 | EA/LucasArts/Warner |
| 7 | The Sims | 106 | 2000 | EA |
| 8 | Pokémon | 93 | 1999 | Nintendo |
| 9 | Assassin's Creed | 27 | 2007 | Ubisoft |
| 10 | Need For Speed | 30 | 1994 | EA |
| 11 | Sonic | 55 | 1991 | Sega |
| 12 | WWE and WWF | 61 | 1987 | Take-Two/THQ/Acclaim |
| 13 | Marvel | 106 | 1982 | Sony/Warner/Square Enix |
| 14 | Wii Fit | 3 | 2008 | Nintendo |
| 15 | Tom Clancy | 72 | 1997 | Ubisoft |
| 16 | Guitar Hero/DJ Hero | 18 | 2006 | Activision Blizzard |
| 17 | Pro Evolution Soccer | 22 | 2001 | Konami |
| 18 | Skylanders | 6 | 2011 | Activision Blizzard |
| 19 | Battlefield | 30 | 2002 | EA |
| 20 | Tomb Raider | 31 | 1996 | Eidos/Square Enix |
| 21 | Halo | 15 | 2001 | Microsoft |
| 22 | DC | 43 | 1986 | Warner/EA/Square/Telltale |
| 23 | Formula One | 66 | 1992 | Codemasters/EA/Sony |
| 24 | Gran Turismo | 13 | 1998 | Sony |
| 25 | Forza | 13 | 2005 | Microsoft |
| 26 | Harry Potter | 13 | 2001 | EA/Warner |
| 27 | Crash Bandicoot | 22 | 1996 | Activision/Vivendi/Sony |
| 28 | The Olympic Games | 20 | 1992 | Sega/Nintendo/Eidos/Konami/T2 |
| 29 | Zelda | 35 | 1987 | Nintendo |
| 30 | PGA Tour Golf | 46 | 1990 | EA/Take-Two |