The UK games industry pays tribute to the late Sir Clive Sinclair
The creator of the ZX80, ZX81 and ZX Spectrum has died at the age of 81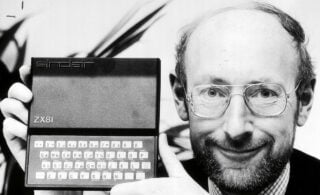 Sir Clive Sinclair, the British entrepreneur and inventor, has died at the age of 81.
Sinclair, who also invented the pocket calculator, was the creator of the ZX80, the first ever mass-market home computer priced less than £100, as well as its successor the ZX81.
But it was the Sinclair ZX Spectrum, with its rubber keys and its wide selection of classic games, that was to become Sinclair's most influential creation in the computer games sector.
First released in the UK in 1982, the ZX Spectrum became Britain's best-selling microcomputer, with over 5 million units sold worldwide.
A number of notable developers enjoyed success early in their careers making ZX Spectrum games, including The Oliver Twins (who developed Dizzy), David Perry (Shiny Entertainment) and the Darling brothers (Codemasters).
It was also the first system of choice for Tim and Chris Stamper and their company Ultimate Play the Game, which would eventually become Rare.
The industry has been paying tribute to Sinclair following the news of his death.
"Sad to hear that pioneering technologist Sir Clive Sinclair died today," said former CVG and Mean Machines editor Julian Rignall.
"His groundbreaking ZX Spectrum and ZX81 home micros helped kickstart the British computer industry and usher in a new era of interactive entertainment. His products inspired and delighted millions."
GamesMaster host Dominik Diamond added: "Wouldn't have had a career without this guy. Horace Goes Skiing on the ZX Spectrum. The rest is history. Sadder news than getting an R Tape Loading Error after ten minutes. Rest In Peace, genius man."
Former games journalist and Star Wars: Rogue One screenwriter Gary Whitta said: "Sir Clive Sinclair has died. One of the 20th century's great genius inventors and a true father of the modern computing age. I'm not sure I'd be where I am today were it not for his ZX Spectrum igniting my love of computers and games. RIP."