The team behind Terminator: Resistance is working on a RoboCop game
RoboCop: Rogue City will release in 2023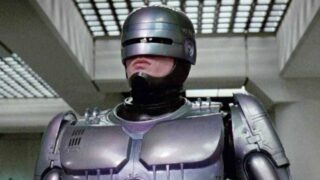 Games publisher Nacon and film company MGM have partnered to create a new game based on RoboCop, they announced on Tuesday.
RoboCop: Rogue City is in development at Teyon, the studio behind 2019 first-person shooter Terminator: Resistance. The game will be based on the first three films in the franchise and is aiming for a release in 2023.
"Nacon and Teyon will work with MGM to develop an authentic RoboCop game experience that is faithful to the franchise's DNA, while immersing gamers in an original story that enables them to play as none other than RoboCop himself," the publisher said.
CEO Alain Falc commented: "We're delighted to be teaming up with MGM to offer a new vision of a popular franchise that was created over 30 years ago. This game is the perfect fit to pursue our aim of offering different gaming experiences to the widest possible audience.
MGM's Robert Marick, added: "We're very much looking forward to collaborating with NACON and Teyon to bring one of MGM's most timeless I.P.'s back to gaming platforms with a brand-new story.
"The film is known for gripping action and complex storytelling, and we are excited for RoboCop fans to experience this first hand through the game."