The Super Mario Bros Movie's final trailer is here
Trailer 3 shows more Rainbow Road footage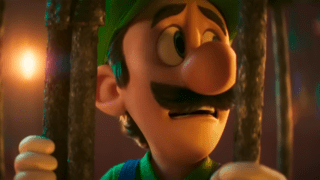 The final trailer for The Super Mario Bros Movie has been released.
The trailer was shown during a special Nintendo Direct today, which specifically focused on the film.
The new trailer includes more footage of the Rainbow Road section, as well as a Luma from Super Mario Galaxy. It also shows Donkey Kong getting a Fire Flower and gaining its powers.
Illumination also released a synopsis for the movie.
"While working underground to fix a water main, Brooklyn plumbers Mario (Chris Pratt; Jurassic World and The LEGO Movie franchises) and brother Luigi (Charlie Day; It's Always Sunny in Philadelphia) are transported down a mysterious pipe and wander into a magical new world," it reads. "But when the brothers are separated, Mario embarks on an epic quest to find Luigi.
"With the assistance of a Mushroom Kingdom resident Toad (Keegan-Michael Key; The Lion King) and some training from the strong-willed ruler of the Mushroom Kingdom, Princess Peach (Anya Taylor-Joy;The Queen's Gambit), Mario taps into his own power."
Following the trailer's reveal, co-director Michael Jelenic spoke more about the Rainbow Road section, saying: "We brought in artists who specialise in vehicle design and worked closely with the team at Nintendo to create some new karts that felt organic to the Jungle Kingdom while still inspired by the iconic game design."
He added: "We improved our lighting and rendering technology to elevate this movie beyond anything Illumination has ever done."
Nintendo and Illumination premiered the first trailer for The Super Mario Bros. Movie in October, giving Mario fans the first chance to hear Chris Pratt as the voice of Mario.
This was followed by a second trailer in November, which debuted the voices of Peach (Anya Taylor-Joy) and Luigi (Charlie Day) for the first time. It also showed a racing scene inspired by Mario Kart.
More recently, a Super Bowl ad for the movie featured a new rendition of the theme music from The Super Mario Bros Super Show.
The 1989 Saturday morning cartoon was well-loved for its intro theme, a rap about the Mario Bros and their plumbing abilities.
Originally set to release on April 7, The Super Mario Bros Movie release date has now been moved forward to April 5 in "the US and in more than 60 markets around the world", including the UK.
Related Products
Other Products
Some external links on this page are affiliate links, if you click on our affiliate links and make a purchase we might receive a commission.