The Super Mario Bros Movie post-credit scenes: What happens during the credits?
Find out about the two secret scenes that play during and after the end credits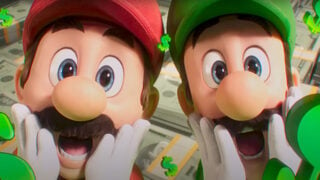 Does The Super Mario Bros Movie have post-credit scenes? The answer is a resounding yes – in fact, it has two of them.
While they're not very long, one of them in particular is very interesting because it gives a fairly obvious hint about what's going to happen if there's a sequel to the movie.
The other one does't have much to do with the plot but it's still a funny scene that'll get a chuckle.
In this article we reveal the what happens during The Super Mario Bros Movie end credits.
The Super Mario Bros Movie – mid-credits scene
The first bonus scene appears halfway through the credits, just after the fancy animated sequence and right before it shifts to the more straightforward scrolling credits.
It shows Bowser playing his piano again, singing a new version of the song he wrote about Peach earlier in the movie.
This time, instead of just singing about Peach, he adds in new lyrics about Mario and Luigi messing up his plans.
Just as he starts singing loudly, a Toad appears and tells him to be quiet.
At this point the camera zooms out and it's revealed that Bowser is still tiny (after eating the Mini Mushroom at the end of the movie) and is trapped inside a small cage in Peach's castle.

---
The Super Mario Bros Movie – post-credits scene
The second bonus scene appears right at the end of the credits (after the songs are listed).
While the first extra scene is just a bit of fun, this one actually teases what we might see in The Super Mario Bros Movie 2.
The scene takes us back to the area under the sewers where Mario first discovers the pipe that leads to the Mushroom Kingdom.
The area is full of steam, and suddenly some of the steam wafts away to reveal a Yoshi egg sitting on the floor.
The egg hatches, and as the camera cuts to black, we hear Yoshi saying his trademark "Yoshi" line.
It appears, then, that even though the Mario Bros move to the Mushroom Kingdom at the end of the movie, a Yoshi has been left behind in Brooklyn, which may be how the sequel starts off.
Related Products
Other Products
Some external links on this page are affiliate links, if you click on our affiliate links and make a purchase we might receive a commission.