The Super Mario Bros Movie is coming to Netflix US in December
It's not yet confirmed whether it will be coming to the service in other regions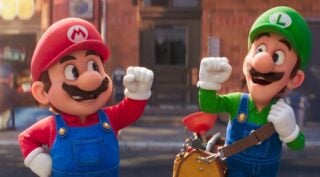 The Super Mario Bros Movie will be coming to Netflix in December in the US.
The news was announced on the official Netflix Twitter account, which stated that the film will be added to the streaming service on December 3.
"For the families that go a little too hard on Mario Kart over the holidays, The Super Mario Bros Movie will be on Netflix to help the healing. December 3!" the tweet reads.
It's not yet clear if the film will be made available on Netflix in other regions on the same date, or even at all.
Because movies often have different digital streaming distribution deals in different regions, it's possible that the news will only apply to Netflix subscribers in the US.
While the film is available to buy or rent digitally from a variety of streaming services across the world, the rights to make a film available for streaming as part of a monthly subscription are usually only held by one or two platforms at a time in each region.
The Super Mario Bros Movie has generated over $1.36 billion at the global box office since its release in early April and is now the third highest-grossing animated film ever, overtaking Frozen ($1.29 billion) and trailing only Frozen II ($1.45 billion) and the 2019 'live-action' remake of The Lion King ($1.663 billion).
In June, the film's star Chris Pratt said news of the film's inevitable sequel should be coming "soon".
In an interview with ET Online, Pratt explained that most productions were on hold due to the writers' strike, but that once it was resolved – which it did in late September – information on the next Mario film should follow.