The Steam Winter Sale is now live
The promotion is running until January 5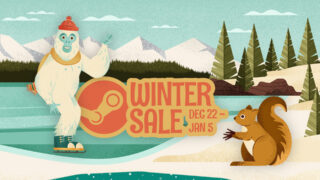 Valve has launched 2021's Steam Winter Sale.
Including savings on hundreds of games, the sale runs until January 5, 2022 at 10am PT / 1pm ET / 6pm GMT.
Featured discounts include Deathloop for £24.99 (50% off), New World for £26.24 (25% off) and Jurassic World Evolution 2 for £34.79 (30% off).
Steam broke its record for concurrent users over the Thanksgiving weekend, reaching an all-time high of 27,384,959.
The record marks the highest number of players logged into Steam simultaneously. Of these users, around 7.8 million were flagged as actively playing games at the time.
The Epic Games Store launched its Holiday Sale last week, featuring discounts of up to 75% until January 6.
It's also running an 'Epic Voucher' promotion, which gives players endless $10 / £10 discounts on eligible game purchases, and it's giving away a free title every day until December 30 as part of its '15 Days of Free Games' campaign.
GOG is currently running its Winter Sale too, which it says includes 3,500 deals and discounts of up to 90% until January 5.
Earlier this month Valve revealed the final Steam Deck packaging ahead of the handheld's launch in February 2022.
It released a handful of images showing how Steam Deck will be boxed when it's delivered to consumers, and how it looks in its carry case.