The Steam summer sale is now live
Discounts run for two weeks until July 9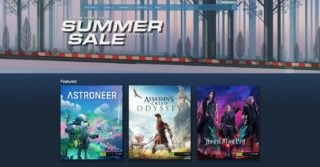 Valve has launched this year's Steam summer sale, featuring savings on a large number of games for the next 14 days.
Featured sale items include Assassin's Creed Odyssey for £24.99 (-50%), Devil May Cry 5 for £29.69 (-34%), Astroneer for £17.84 (-25%), Resident Evil 2 for £29.69 (-34%) and Jurassic World Evolution for £10.79 (-70%).
All the discounts are valid until the sale ends on July 9. If there's something you're after in particular and it's not currently on sale, add it to your wishlist to receive a notification should the price drop in the future.
To accompany the sale, Valve has launched the Steam Grand Prix 2019 event. Running until 10am PDT on July 7, it offers participants the chance to win games in their wishlist by taking part in quests or earning achievements from games in their library. Find out more about how it works here.
Valve launched the Steam Link app for iOS devices last month, a year after it arrived on Android. It enables users to pair an MFI or Steam controller to an iPhone, iPad, iPod touch or Apple TV, connect to a host computer running Steam via a 5Ghz network or ethernet cable, and start playing Steam games on their chosen Apple device.