The Sega Mega Drive Mini 2 has been confirmed for Europe
Pre-orders will open in September ahead of late October launch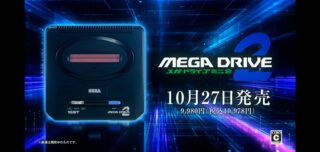 Sega has confirmed plans to launch the Mega Drive Mini 2 in Europe.
While the miniature console was previously announced for release in Japan and the US, it was only confirmed for Europe on Friday.
The Sega Mega Drive Mini 2 / Genesis Mini 2 will launch in Japan, North America and Europe on October 27.
Genesis Mini 2 | Full Game List
"European pre-orders will open for the Mega Drive Mini 2 in September", Sega said in the description of the newly released video above, which reveals the entire western games line-up.
During a live stream on Friday, Sega also confirmed the console's full Japanese line-up of games.
The final batch of announcements included a number of brand-new titles and new ports.
The brand-new games announced were Party Quiz Mega Q 2022 (Japan only), Party Quiz Sega Q (Japan only) and Devi & Pii, which was created by Takashi Iizuka just before he joined the Sonic 3 team.
Meanwhile, new Mega Drive ports of Super Locomotive, Puyo Puyo Sun and Space Harrier 2 have been added (the latter being an enhanced port with smoother scrolling).
A Sega representative recently told Polygon that the Genesis Mini 2 will have just one-tenth the supply of 2019's Sega Genesis Mini due to the ongoing global semiconductor shortage.
They said that, originally, the product may only have launched in Japan but, "by using Amazon's 'Japan Store' system, we found that at least a small number of units could be sold via Amazon.com, so a portion was allocated to make the North American version."