The remaster of N64 classic Shadow Man gets a release date
The game hits PC in April and consoles "soon"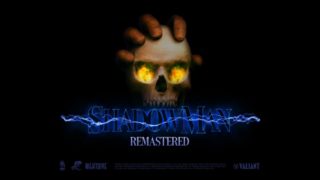 Nightdive Studios has announced that Shadow Man Remastered will be released for PC via Steam, Epic Games Store and GOG on April 15, 2021.
The title is also due to be released for Nintendo Switch, PS4 and Xbox One "soon".
Based on the Valiant comic book series, Shadow Man was originally developed by Acclaim Studios and released for N64, Dreamcast, PlayStation and PC in 1999, before Nightdive republished it for PC in its original form in 2014.
"Shadow Man Remastered follows Michael LeRoi, the current holder of the voodoo warrior moniker 'Shadow Man', as he battles the forces of darkness attempting to cross-over from their realm into the world of the living," reads a blurb for the game.
"Join Michael as he fights his way through the swamps of Louisiana, the back alleys of New York City, and the dark and terrifying land of Deadside in his mission to keep supernatural threats from invading the land of the living."
Shadow Man Remastered features
4K widescreen support for the latest monitors
No more jaggies thanks to anti-aliasing and all sorts of other post-processing magic
A whole new visual experience with dynamic shadow mapping and per-pixel lighting
Never-before-seen content cut from the original game
High Dynamic Range (HDR) rendering to really take advantage of modern displays
Nintendo Switch, Xbox One, and PlayStation 4 versions coming soon

Shadow Man Remastered is powered by Nightdive's KEX engine, which was previously used to restore games including System Shock, Turok and Forsaken.
"Our goal with the remaster is to give today's generation of gamers all the features that they expect from a modern title while preserving the qualities that made Valiant's iconic character and the original Shadow Man game such memorable classics to begin with," Nightdive CEO Stephen Kick said last year.
The first issue of a new Shadow Man comic book series from writer Cullen Bunn and artist Jon Davis-Hunt will also launch on April 28.